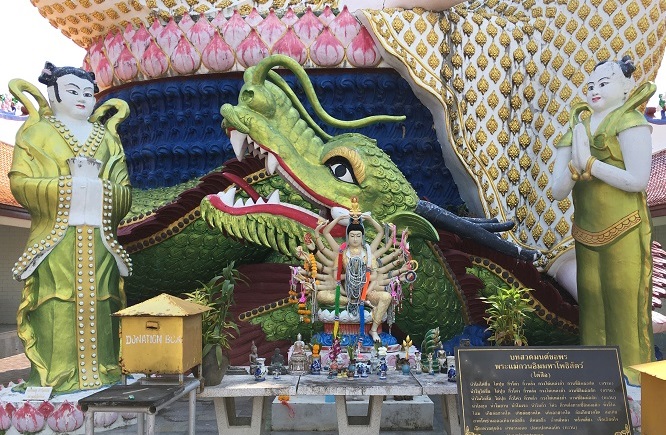 Join Thor and me as your virtual vacation continues with our last stop on the island of Koh Samui — the mind-boggling temple complex of Wat Plai Laem.
NOTE: "And now for something completely different." Thor and I made our first trip to Asia — the beautiful country of Thailand.  We were lucky to squeak through the pandemic flight closures in January/February of 2020 as we returned from our three-week trip. Since more travel has now become a distant prospect, we hope you'll take a virtual vacation with us in the following weeks. (This blog series started on June 13.)
Last week, our visit to the Big Buddha shrine prompted reactions from awe to bemusement, and now this ramble around the exuberant displays at nearby Wat Plai Laem took us right into the realm of the surreal. Both complexes are of fairly recent construction (1970s), and the aesthetics are quite a step from the traditional wats we visited in Bangkok. Again, a combination of Buddhist, Chinese, and Hindu deities and imagery flourish, here in vivid colors. Come on along!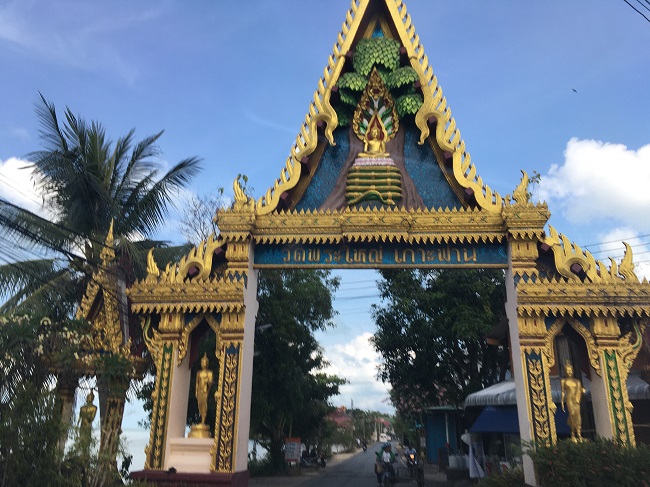 A jolly Buddha perches high above the pond: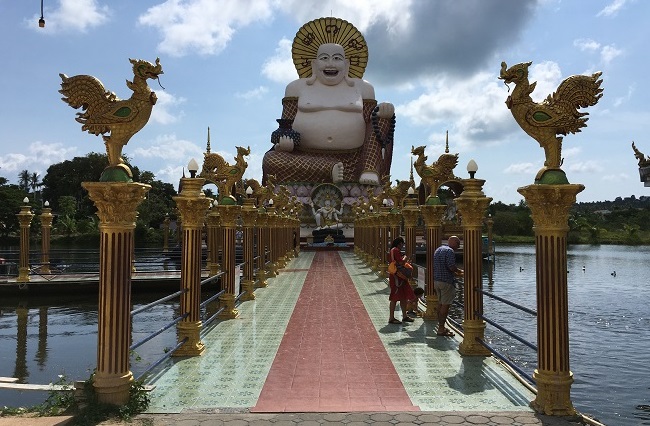 The complex holds a collection of shrines and statues mostly suspended on platforms on a small lake, appearing as if floating on pink lotus blossoms. Outsize statues loom over the lovely temples with startling impact. Joining the few pilgrims that day, we earned merit by buying a bag of food for the schools of fish swarming around the platforms.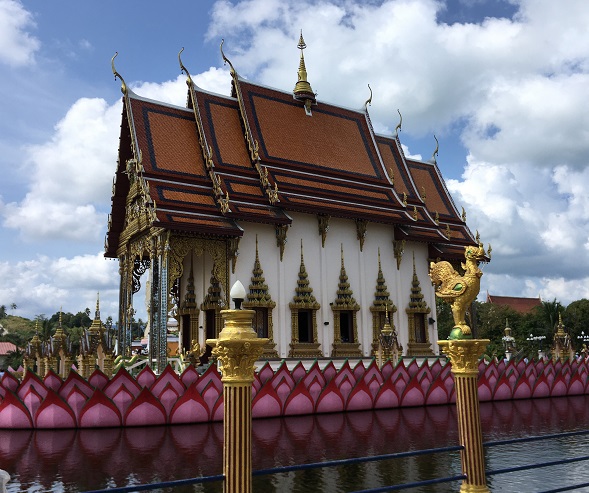 Because our Book View Cafe website server at this point may not handle many photos, I'm posting my complete blog entries on my own author website at www.sarastamey.com, where you can finish this episode and enjoy all the accompanying photos. Please continue reading by clicking on the link below, then you can return here (use "go back" arrow above) to comment, ask questions, or join a conversation. We love your responses!
https://sarastamey.com/the-rambling-writer-visits-thailand-part-10-wat-plai-laem/
*****
You will find The Rambling Writer's blog posts here every Saturday. Sara's latest
novel from Book View Café is available in print and ebook: The Ariadne Connection. It's a near-future thriller set in the Greek islands. "Technology triggers a deadly new plague. Can a healer find the cure?"  The novel has received the Chanticleer Global Thriller Grand Prize and the Cygnus Award for Speculative Fiction. Sara has recently returned from another research trip in Greece and is back at work on the sequel, The Ariadne Disconnect. Sign up for her quarterly email newsletter at www.sarastamey.com