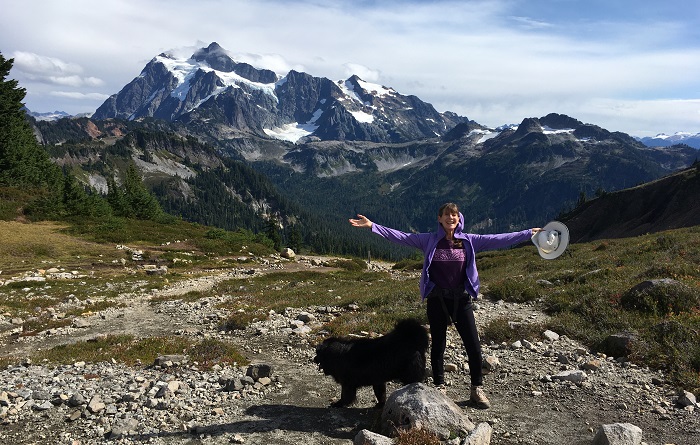 Thor, Bear dog, and I celebrate our beautiful Mount Baker Wilderness, and send best wishes to the those fighting the terrible wild fires burning our U.S. West.
2020 continues its ravages on so many levels, but there is still so much beauty in the world to appreciate. Thor and I have had our share of challenges! Earlier this summer, in Take One of Return to the Mountains, we decided to test out our recoveries from leg/hip injuries, and enjoyed a mild hike in the foothills below Mt. Baker. Then came a surprise cancer diagnosis and major surgery. Just as I was getting my strength back for more walking, in the last couple of weeks, the devastating wild fires all over the West, especially California and Oregon, caught up to us even in our green corner of the Pacific Northwest. We were blanketed in officially Hazardous smoke for days, a bit scary after my lung surgery. I've never smoked, but our air was giving us all smoker's hack.
So when the air cleared with a wind shift, and before an offshore storm "river" brought us days of wind and rain deluges, we decided carpe diem called for escape to the mountains. I thought maybe I'd just hike the first, level part of the Ptarmigan Ridge Trail at the top of the Mt. Baker Highway and see how I did. Then I became intoxicated with my return to the mountains and said, "Let's go on down to Chain lakes!" It involved some rough landslide terrain and a steepish climb back up from the lakes, but with a lot of huffing and puffing, I made it! We seized the heck out of our day!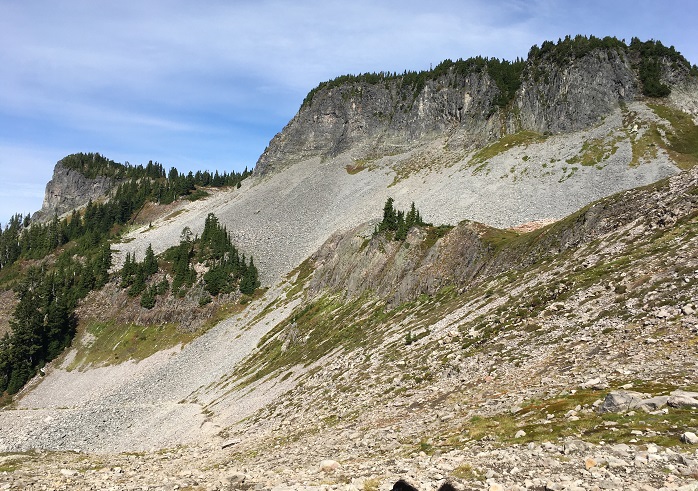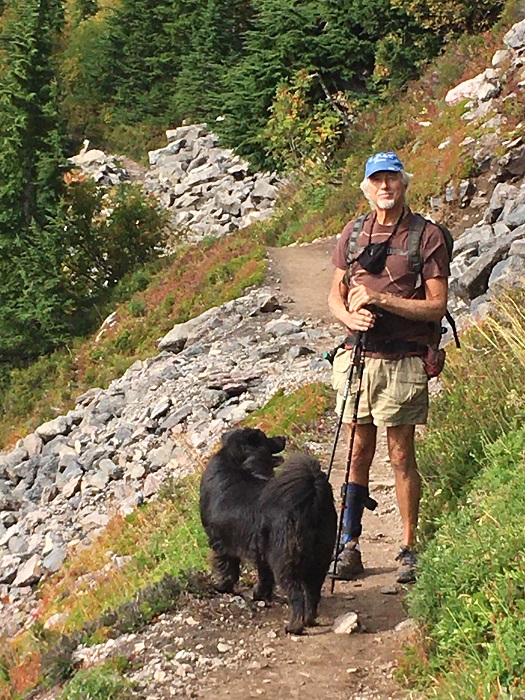 Because our Book View Cafe website server at this point may not handle many photos, I'm posting my complete blog entries on my own author website at www.sarastamey.com, where you can finish this episode and enjoy all the accompanying photos. Please continue reading by clicking on the link below, then you can return here (use "go back" arrow above) to comment, ask questions, or join a conversation. We love your responses!
https://sarastamey.com/the-rambling-writer-returns-to-the-mountains-take-two/
*****
You will find The Rambling Writer's blog posts here every Saturday. Sara's latest novel from Book
View Café is available in print and ebook: The Ariadne Connection. It's a near-future thriller set in the Greek islands. "Technology triggers a deadly new plague. Can a healer find the cure?"  The novel has received the Chanticleer Global Thriller Grand Prize and the Cygnus Award for Speculative Fiction. Sara has recently returned from another research trip in Greece and is back at work on the sequel, The Ariadne Disconnect. Sign up for her quarterly email newsletter at www.sarastamey.com