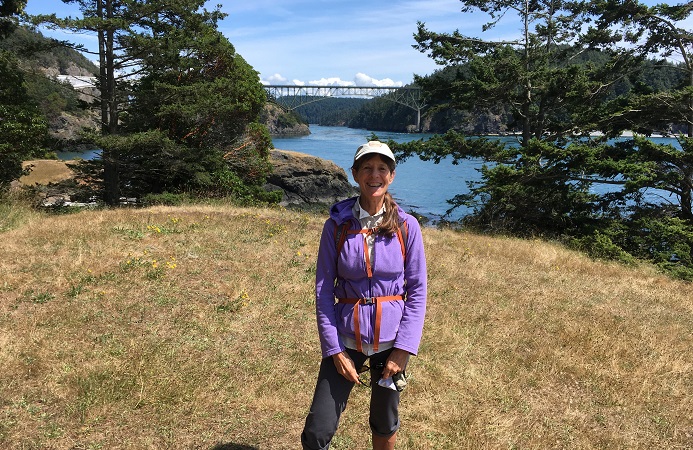 Join Thor, Bear dog, and me as we hike from Rosario Beach to Deception Pass Bridge in Northwest Washington.
This is the year of Life, Interrupted for all of us, what with the COVID-19 upheavals and more. Knowing I had major surgery in store this summer, I packed in as much outdoor activity as possible before August. So I'm now interrupting my Thailand Virtual Vacation posts to share one of those earlier summer outings: a visit to our nearby Rosario Beach and trails in Deception Pass State Park.
Once our long months of gray rain blossom into sunny summer, my native Pacific Northwest is truly glorious, and the trail from Rosario Beach on Fidalgo Island (connected by bridge to the mainland) toward the Deception Pass Bridge offers quintessential scenery along the Strait of Juan de Fuca. The madrona trees are especially beautiful.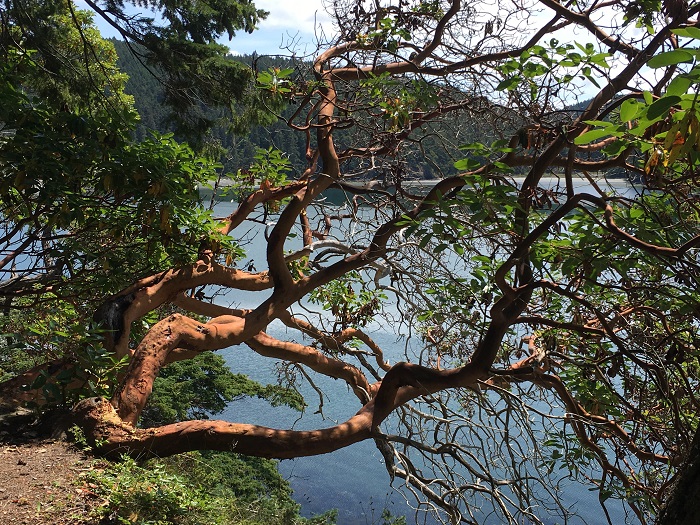 Because our Book View Cafe website server at this point may not handle many photos, I'm posting my complete blog entries on my own author website at www.sarastamey.com, where you can finish this episode and enjoy all the accompanying photos. Please continue reading by clicking on the link below, then you can return here (use "go back" arrow above) to comment, ask questions, or join a conversation. We love your responses!
https://sarastamey.com/the-rambling-writer-at-deception-pass/
*****
You will find The Rambling Writer's blog posts here every Saturday. Sara's latest novel from Book
View Café is available in print and ebook: The Ariadne Connection. It's a near-future thriller set in the Greek islands. "Technology triggers a deadly new plague. Can a healer find the cure?"  The novel has received the Chanticleer Global Thriller Grand Prize and the Cygnus Award for Speculative Fiction. Sara has recently returned from another research trip in Greece and is back at work on the sequel, The Ariadne Disconnect. Sign up for her quarterly email newsletter at www.sarastamey.com