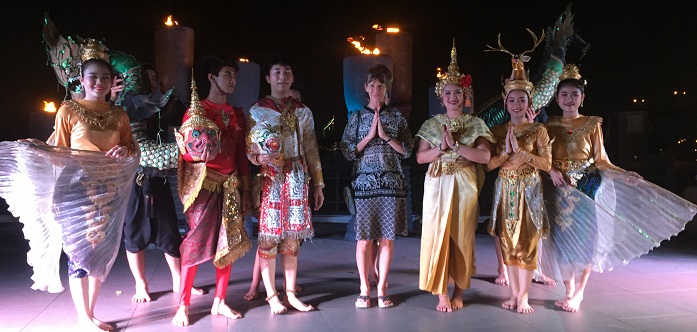 Join Thor and me as we celebrate Chinese New Year in Bangkok, starting with traditional Thai dancers.
NOTE: "And now for something completely different." Thor and I made our first trip to Asia — the beautiful country of Thailand.  We were lucky to squeak through the pandemic flight closures in January/February of 2020 as we returned from our three-week trip. Since more travel has now become a distant prospect, we hope you'll take a virtual vacation with us in the following weeks. (This blog series started on June 13.)
In our semi-jet-lagged state, we were a bit slow to realize that all the red lanterns and other decorations at the hotel were honoring Chinese New Year.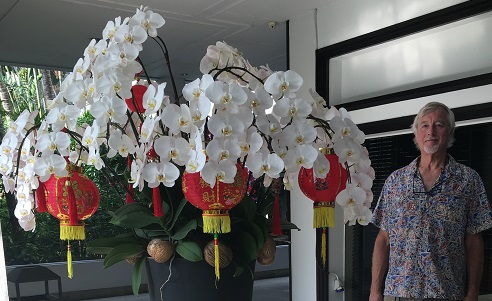 After our first long day touring the wats, Thor gave me a birthday present of a couple's Thai massage at the hotel spa, followed by dinner theater of Thai dancers presenting a traditional story. Hanuman the monkey god saved the day from evil demons. The masked figure reminded me of native dancers in my Pacific Northwest with wooden Raven masks acting out mischievous antics. Tricksters seem to be universal!
Here's a YouTube video of some of the dancing, as well as a dragon who wound around the tables.
Because our Book View Cafe website server at this point may not handle many photos, I'm posting my complete blog entries on my own author website at www.sarastamey.com, where you can finish this episode and enjoy all the accompanying photos. Please continue reading by clicking on the link below, then you can return here (use "go back" arrow above) to comment, ask questions, or join a conversation. We love your responses!
https://sarastamey.com/the-rambling-writer-visits-thailand-part-5-chinese-new-year-in-bangkok/
*****
You will find The Rambling Writer's blog posts here every Saturday. Sara's latest novel from Book
View Café is available in print and ebook: The Ariadne Connection. It's a near-future thriller set in the Greek islands. "Technology triggers a deadly new plague. Can a healer find the cure?"  The novel has received the Chanticleer Global Thriller Grand Prize and the Cygnus Award for Speculative Fiction. Sara has recently returned from another research trip in Greece and is back at work on the sequel, The Ariadne Disconnect. Sign up for her quarterly email newsletter at www.sarastamey.com