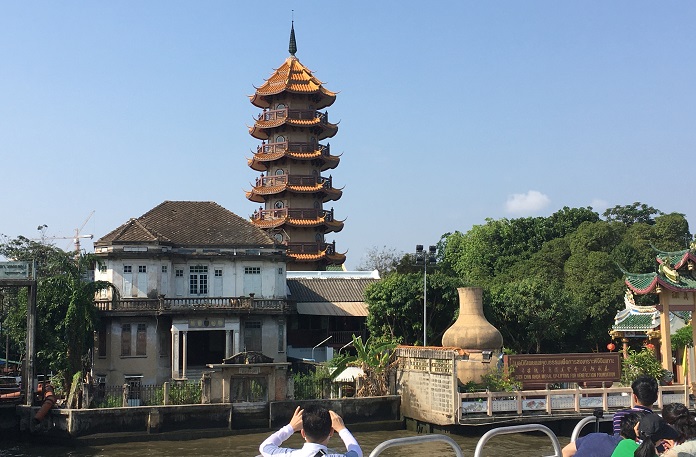 From our hotel on the banks of the Chao Praya River, Thailand's most important waterway, Thor and I go with the flow through the bustling Old Town of Bangkok.
NOTE: "And now for something completely different." Thor and I recently made our first trip to Asia — the beautiful country of Thailand.  We were lucky to squeak through the pandemic flight closures this February of 2020 as we returned from our three-week trip. Since more travel has now become a distant prospect, we hope you'll take a virtual vacation with us in the following weeks. (This blog series started on June 13.)
I was lucky enough to find a great price in business class for the very long flight from Vancouver, B.C., and since Thor is 6'6? it made sense. Being able to sleep in spacious, fully-reclined seating made a huge difference in reducing jet lag. The way the world is going with the pandemic, that may be the only time Thor and I experience that kind of flight, or any other, so we're glad we got to indulge in that luxury. Landing in Bangkok hit us with the first of our culture shocks: This sprawling city of between 9.5 to 15 million people (depending on official or unofficial counts) reflects what a critic termed "uncontrolled expansion" that also applies to the previous decades' push (since the 70s) to promote tourism without much planning. It's an incredibly beautiful country, but also incredibly crowded. Coming from our relatively spacious Pacific Northwest, we took a deep breath and plunged in.
From my journal: "The taxi ride from Bangkok Airport to our Anantara Riverfront Hotel took an hour through a mind-boggling degree of sprawl and density. Super modern skyscrapers shoulder-to-shoulder with rusty shanties. Mobs of motos (scooters) with multiple riders buzz with apparent disregard for life and limb through crowded streets festooned with tangles of electrical wiring that make you hope for efficient fire departments." This glimpse from our taxi was an unusually uncrowded street: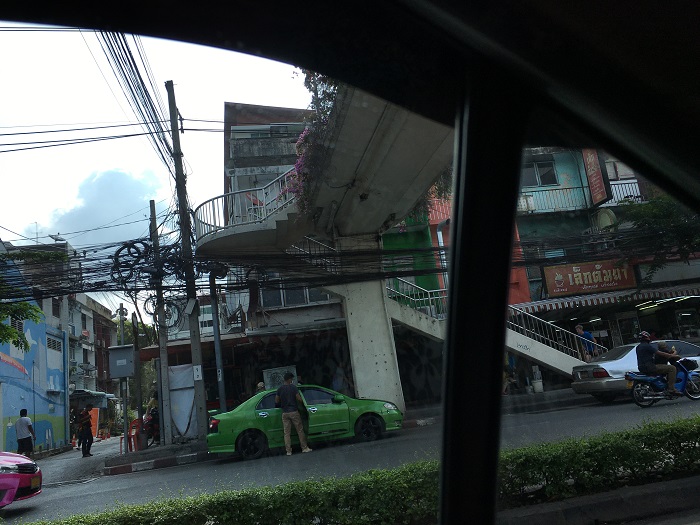 We were further disoriented when we climbed out of the taxi at our hotel. The muggy heat was a real body blow to our winter selves. I had booked what looked like a nice place convenient to the river water taxis, but as we arrived, we realized that we were entering a very upscale, luxury hotel (again, for a bargain price in U.S. dollars). The gracious doorman in traditional attire was the first to give us the wai greeting of joined palms to bowed forehead. We would soon learn that the reputation of Thais for sweet natures is very true. Such lovely people!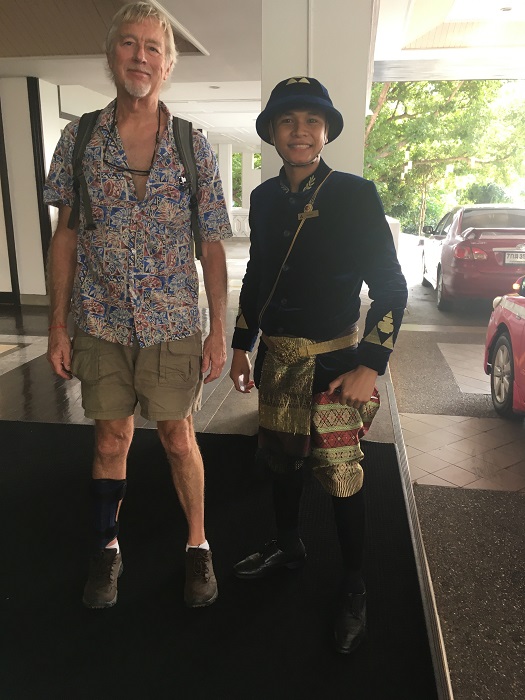 Because our Book View Cafe website server at this point may not handle many photos, I'm posting my complete blog entries on my own author website at www.sarastamey.com, where you can finish this episode and enjoy all the accompanying photos. Please continue reading by clicking on the link below, then you can return here (use "go back" arrow above) to comment, ask questions, or join a conversation. We love your responses!
https://sarastamey.com/the-rambling-writer-visits-thailand-part-2-bangkoks-river-artery/
*****
You will find The Rambling Writer's blog posts here every Saturday. Sara's latest novel from Book
View Café is available in print and ebook: The Ariadne Connection. It's a near-future thriller set in the Greek islands. "Technology triggers a deadly new plague. Can a healer find the cure?"  The novel has received the Chanticleer Global Thriller Grand Prize and the Cygnus Award for Speculative Fiction. Sara has recently returned from another research trip in Greece and is back at work on the sequel, The Ariadne Disconnect. Sign up for her quarterly email newsletter at www.sarastamey.com