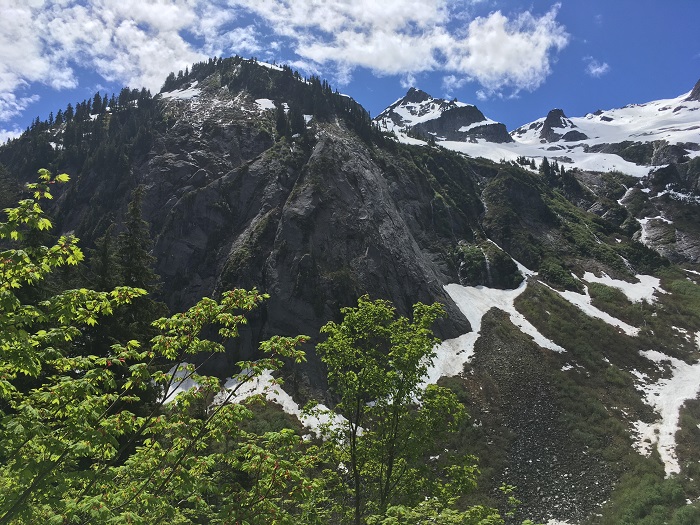 Join Thor , Bear dog, and me as we heed the call of the wild to the Mt. Baker Wilderness.
NOTE: For more virtual getaways you may enjoy this summer, I'll be weaving in some outdoor excursions between our virtual-vacation series from our Thailand trip. Next week we'll take you back to Bangkok!
It had been a long time without mountain hikes for us: For me, a misdiagnosed hip-tendon tear two and a half years ago (could it have been that snowshoeing mishap when I slid into a tree well?), a failed surgery, injections, rounds of physical therapy, and So Many cautions to go slow and avoid repeated injury. For Thor, permanent nerve damage in his right calf requiring a prosthetic device. The joys of aging! But we had a partly-sunny day between rains this week, and as we gazed longingly toward the snow-capped peak of Mt. Baker an hour away, we declared, "It's time!" We would work with what we've got. For a starter hike, we picked the easy lower portion of Hannegan Peak Trail, relatively snow-free in early summer and featuring a gradual ascent.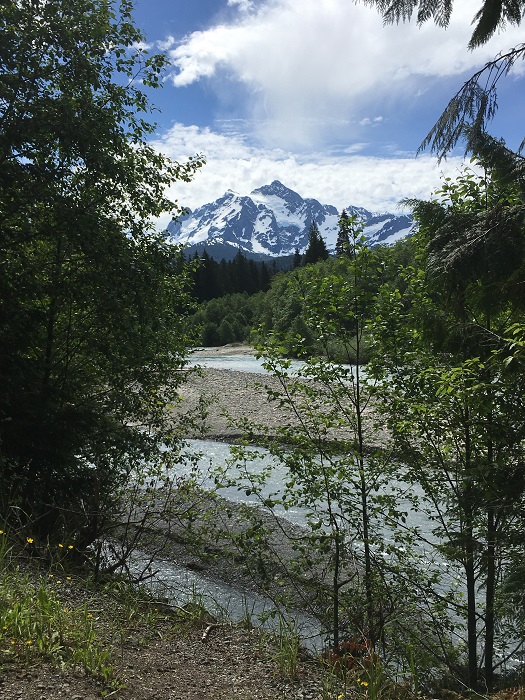 The gravel road off the Mt. Baker Highway starts with a peek-a-boo view across Hannegan Creek toward Mt. Shuksan (above). Just as we reached the usual parking area for the trail, we encountered a big washout where the road used to be:
Because our Book View Cafe website server at this point may not handle many photos, I'm posting my complete blog entries on my own author website at www.sarastamey.com, where you can finish this episode and enjoy all the accompanying photos. Please continue reading by clicking on the link below, then you can return here (use "go back" arrow above) to comment, ask questions, or join a conversation. We love your responses!
https://sarastamey.com/the-rambling-writer-returns-to-the-mountains/
*****
You will find The Rambling Writer's blog posts here every Saturday. Sara's latest novel from Book
View Café is available in print and ebook: The Ariadne Connection. It's a near-future thriller set in the Greek islands. "Technology triggers a deadly new plague. Can a healer find the cure?"  The novel has received the Chanticleer Global Thriller Grand Prize and the Cygnus Award for Speculative Fiction. Sara has recently returned from another research trip in Greece and is back at work on the sequel, The Ariadne Disconnect. Sign up for her quarterly email newsletter at www.sarastamey.com