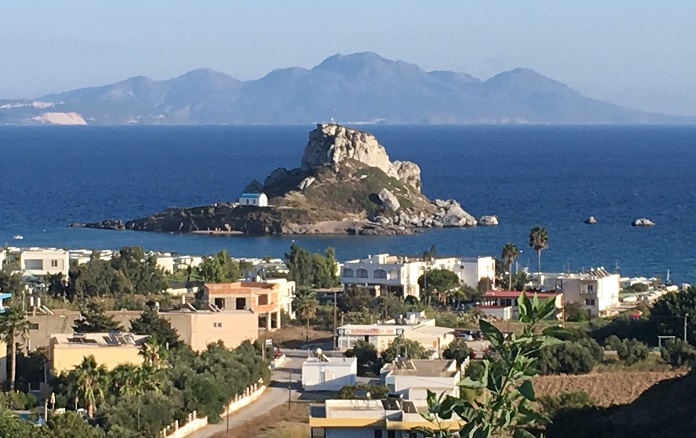 Join Thor and me in a virtual vacation as we wrap up our Greek islands tour with visits to our favorite Kos village and beaches. Farewell to the islands – at least for now!
NOTE: Of course, Thor and I had to make another trip to Greece, as he's fallen as much in love with the islands as I am. This time I wanted to return to Crete after 37 years, to introduce Thor to "glorious Kriti" and research more settings for my novel-in-progress, THE ARIADNE DISCONNECT. After time-traveling via ruins and museums to explore the mysterious, vanished Minoan culture, we went ferry-hopping to relax on a couple of our favorite islands.
My primary goal in our Greece travels is to soak up as much culture, history, and landscape as possible to fuel my novel-writing. But also vital are our devotions to the beautiful marble-pebble beaches and magical deep blue sea. Our doctors have literally prescribed warm climate and thalassotherapy for our joint and nerve issues, as if we needed an excuse to indulge our passion for swimming and snorkeling off these beautiful islands. And for a bonus at the beach of Agios Stefanos, we swam straight from classic-era temple ruins to the rocky islet of Kastri, with its tiny chapel and a bell to ring for good luck.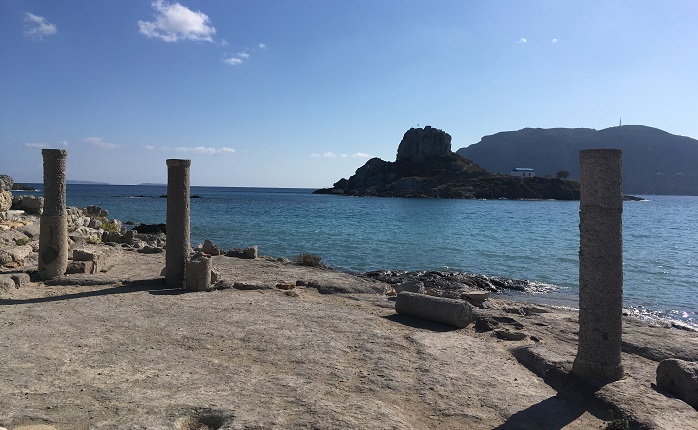 We also decided to repeat our unusual indulgence of the previous year with a stay at the luxurious White Rock of Kos, in our "room with a view" and private infinity pool. We only live once, and we believe that Dionysos and Ariadne would approve.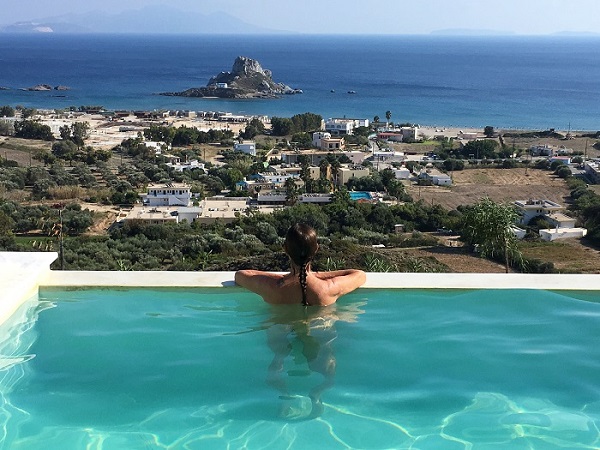 Because our Book View Cafe website server at this point may not handle many photos, I'm posting my complete blog entries on my own author website at www.sarastamey.com, where you can finish this episode and enjoy all the accompanying photos. Please continue reading by clicking on the link below, then you can return here (use "go back" arrow above) to comment, ask questions, or join a conversation. We love your responses!
https://sarastamey.com/the-rambling-writers-greek-islands-2019-part-8-kos-beaches-and-village/
*****
You will find The Rambling Writer's blog posts here every Saturday. Sara's latest novel from
Book View Cafe is available in print and ebook: The Ariadne Connection.  It's a near-future thriller set in the Greek islands. "Technology triggers a deadly new plague. Can a healer find the cure?"  The novel has received the Chanticleer Global Thriller Grand Prize and the Cygnus Award for Speculative Fiction. Sara has recently returned from another research trip in Greece and is back at work on the sequel, The Ariadne Disconnect. Sign up for her quarterly email newsletter at www.sarastamey.com