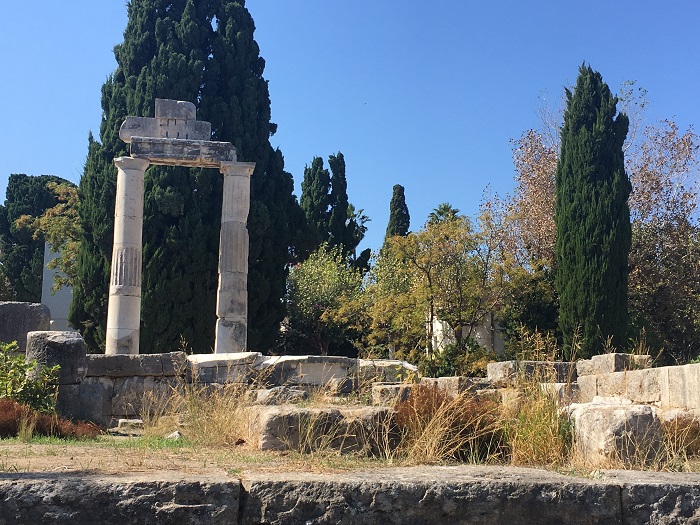 Join Thor and me as we wander the lanes of Kos Town that wind around Hellenic ruins and a reconstructed Roman Villa.
NOTE: Of course, Thor and I had to make another trip to Greece, as he's fallen as much in love with the islands as I am. This time I wanted to return to Crete after 37 years, to introduce Thor to "glorious Kriti" and research more settings for my novel-in-progress, THE ARIADNE DISCONNECT. After time-traveling via ruins and museums to explore the mysterious, vanished Minoan culture, we went ferry-hopping to relax on a couple of our favorite islands.
We agree with Lawrence Durrell about Kos, "…the island of Hippocrates, which has never failed to excite the visitor to eulogy. Poet and wayfarer alike have always appreciated Kos for its green abundance and quietness. It lies lapped in a fold of the Turkish mainland, which thrusts out great promontories now, one upon another, with spectacular fjords laid up between. Kos, the most sheltered of the Dodecanese islands and deservedly the most praised. It would be downright dishonest to raise a dissenting voice against merits so self-evident in these green and smiling valleys, rich with fruit and flowers." (from The Greek Islands)
In an earlier post, we arrived via ferry on Kos, admiring the harbor with its medieval castle and fortress guarding the port. Unfortunately, we could not walk on the battlements, due to recent earthquake damage in this land of the earth-shaker god Poseidon.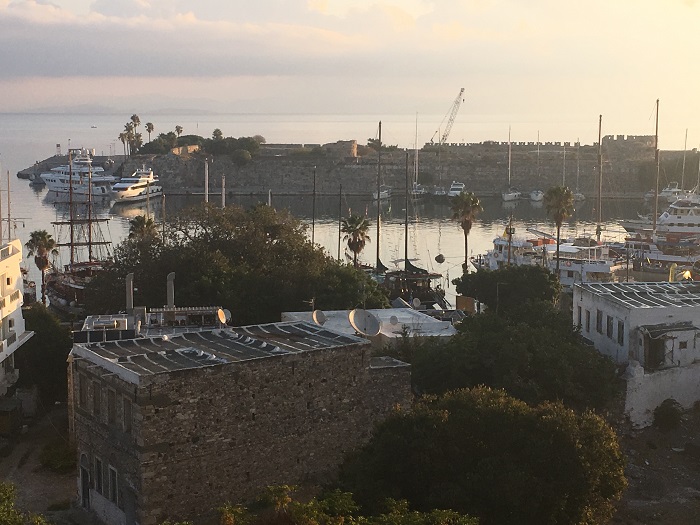 Kos is a lovely town to wander, with its mix of ancient, medieval, and modern buildings. An earthquake in 1933 caused considerable damage but revealed extensive ruins of Hellenic Greek and later Roman temples, gymnasium, theater, and homes. The present-day lanes wind among the ancient sites in various stages of excavation and restoration, and it feels as if you can slip easily through time portals. Thor and I headed from the harbor to visit and revisit a few of the sites. (We had seen some on our visit a year earlier.) As always, we were welcomed by friendly Greek cats.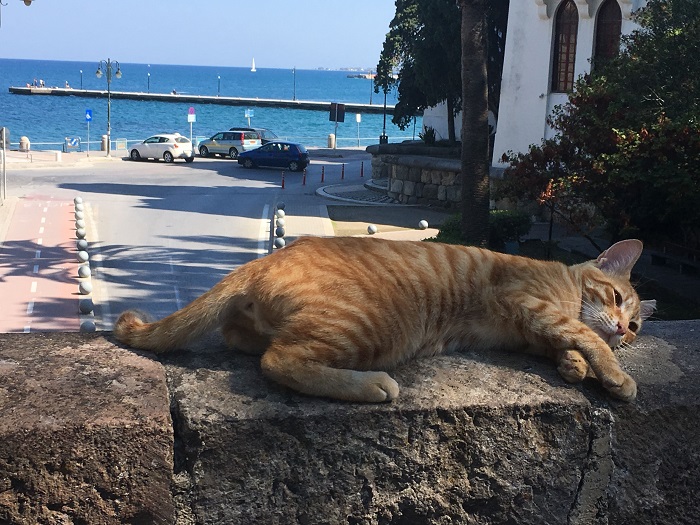 Because our Book View Cafe website server at this point may not handle many photos, I'm posting my complete blog entries on my own author website at www.sarastamey.com, where you can finish this episode and enjoy all the accompanying photos. Please continue reading by clicking on the link below, then you can return here (use "go back" arrow above) to comment, ask questions, or join a conversation. We love your responses!
https://sarastamey.com/the-rambling-writers-greek-islands-2019-part-6-kos-towns-ancient-sites/
*****
You will find The Rambling Writer's blog posts here every Saturday. Sara's latest novel from
Book View Cafe is available in print and ebook: The Ariadne Connection.  It's a near-future thriller set in the Greek islands. "Technology triggers a deadly new plague. Can a healer find the cure?"  The novel has received the Chanticleer Global Thriller Grand Prize and the Cygnus Award for Speculative Fiction. Sara has recently returned from another research trip in Greece and is back at work on the sequel, The Ariadne Disconnect. Sign up for her quarterly email newsletter at www.sarastamey.com