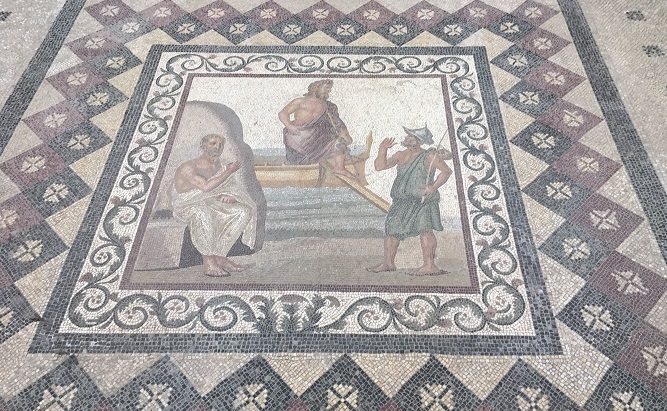 Come marvel with Thor and me at the treasures of ancient culture in the Museum of Archaeology on the island of Hippocrates and healer-god Asklepios.
NOTE: Of course, Thor and I had to make another trip to Greece, as he's fallen as much in love with the islands as I am. This time I wanted to return to Crete after 37 years, to introduce Thor to "glorious Kriti" and research more settings for my novel-in-progress, THE ARIADNE DISCONNECT. After time-traveling via ruins and museums to explore the mysterious, vanished Minoan culture, we went ferry-hopping to relax on a couple of our favorite islands.
Since we visited the healing sanctuary of the Asklepios last week (post of May 9), today we'll revisit the small archaeology museum in Kos Town, a special gem with an amazing range of offerings. We were grateful that the museum had reopened after a period of closure possibly due to a recent earthquake that had damaged and closed some other buildings in town. Many of the statues and mosaics reflected the island's heritage as the birthplace of Hippocrates, "father of modern medicine," who honored the healer-god Asklepios as he established healing sanctuaries and teaching centers. The mosaic above is from the Roman House of Asklepios, dating from around 250 AD, depicting the arrival of the god on Kos. He is greeted by a citizen of Kos, while Hippocrates is seated at left.
Next week we'll visit a reconstructed Roman villa among other Hellenistic ruins in Kos Town, so I'll start with the museum's collection of beautiful marble statues depicting the Greek gods as still honored by the Romans around 200 AD. First up, Artemis, goddess of the hunt and wilderness: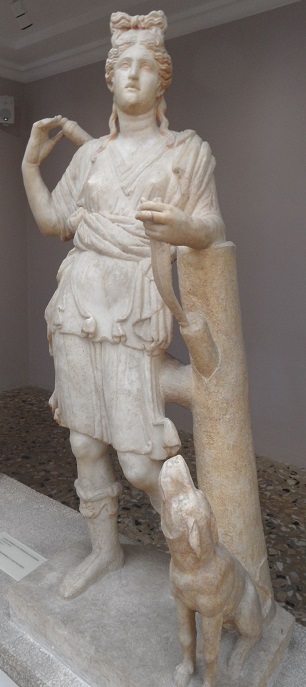 Because our Book View Cafe website server at this point may not handle many photos, I'm posting my complete blog entries on my own author website at www.sarastamey.com, where you can finish this episode and enjoy all the accompanying photos. Please continue reading by clicking on the link below, then you can return here (use "go back" arrow above) to comment, ask questions, or join a conversation. We love your responses!
https://sarastamey.com/the-rambling-writers-greek-islands-2019-part-5-kos-museum/
*****
You will find The Rambling Writer's blog posts here every Saturday. Sara's latest novel from
Book View Cafe is available in print and ebook: The Ariadne Connection.  It's a near-future thriller set in the Greek islands. "Technology triggers a deadly new plague. Can a healer find the cure?"  The novel has received the Chanticleer Global Thriller Grand Prize and the Cygnus Award for Speculative Fiction. Sara has recently returned from another research trip in Greece and is back at work on the sequel, The Ariadne Disconnect. Sign up for her quarterly email newsletter at www.sarastamey.com