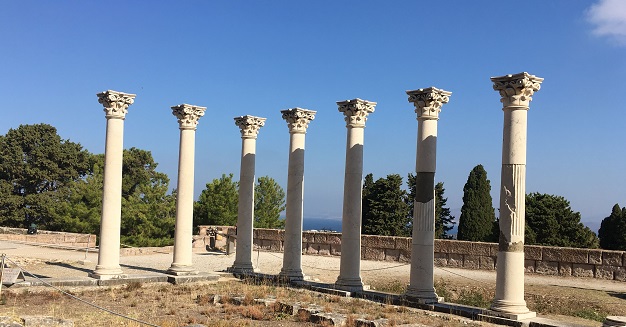 Join Thor and me as we return to Kos, the island of Hippocrates, and its ancient sanctuary of healing dedicated to the god Asklepios.
NOTE: Of course, Thor and I had to make another trip to Greece, as he's fallen as much in love with the islands as I am. This time I wanted to return to Crete after 37 years, to introduce Thor to "glorious Kriti" and research more settings for my novel-in-progress, THE ARIADNE DISCONNECT. After time-traveling via ruins and museums to explore the mysterious, vanished Minoan culture, we went ferry-hopping to relax on a couple of our favorite islands.
If you recall from my post here of April 25, Thor and I left Rhodes on the afternoon ferry, eager to return to the serene island of Kos with its wealth of history, mythology, and of course our favorite pebble beaches inviting us into the magical blue sea.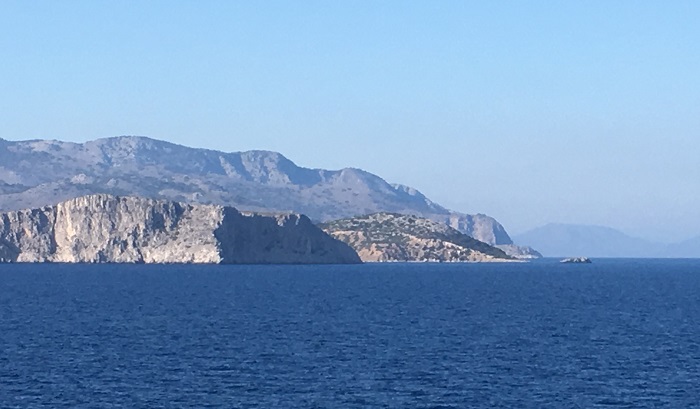 After settling in, we returned in the morning for a repeat visit to the beautiful ancient site of the asklepion, a healing center that drew patients and pilgrims from near and far for hundreds of years. It's a setting in my novel-in-progress, and I wanted to soak up its soothing ambiance one more time.
"There are places benign and places baleful; and I seem to remember that in the treatise on Soils, Airs, Waters attributed to Hippocrates himself, the doctor-saint of Kos makes some attempt to describe the often fortuitous combination of the three elements necessary to create a site with natural healing properties." (Lawrence Durrel, The Greek Islands) The Sanctuary of Asklepios on Kos certainly fulfills these requirements. Like the equally renowned ancient sanctuary of Epidauros in the Pelopponese, this site of healing exudes a nurturing sense of tranquility that welcomed Thor and me as we stepped into its morning quiet.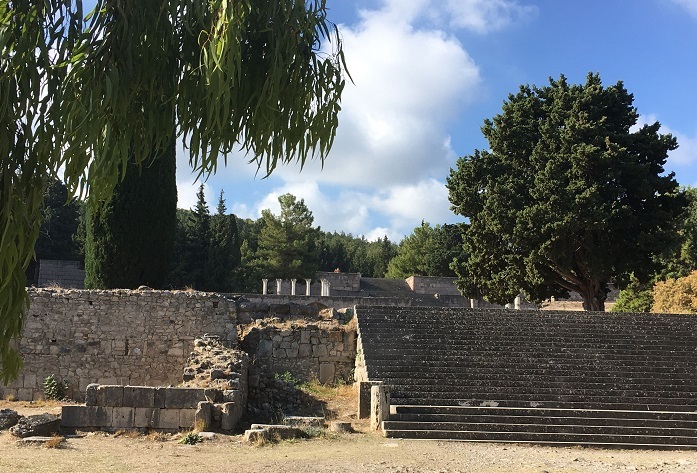 Because our Book View Cafe website server at this point may not handle many photos, I'm posting my complete blog entries on my own author website at www.sarastamey.com, where you can finish this episode and enjoy all the accompanying photos. Please continue reading by clicking on the link below, then you can return here (use "go back" arrow above) to comment, ask questions, or join a conversation. We love your responses!
https://sarastamey.com/the-rambling-writers-greek-islands-2019-part-4-the-healing-asklepion-on-kos/
*****
You will find The Rambling Writer's blog posts here every Saturday. Sara's latest novel from
Book View Cafe is available in print and ebook: The Ariadne Connection.  It's a near-future thriller set in the Greek islands. "Technology triggers a deadly new plague. Can a healer find the cure?"  The novel has received the Chanticleer Global Thriller Grand Prize and the Cygnus Award for Speculative Fiction. Sara has recently returned from another research trip in Greece and is back at work on the sequel, The Ariadne Disconnect. Sign up for her quarterly email newsletter at www.sarastamey.com