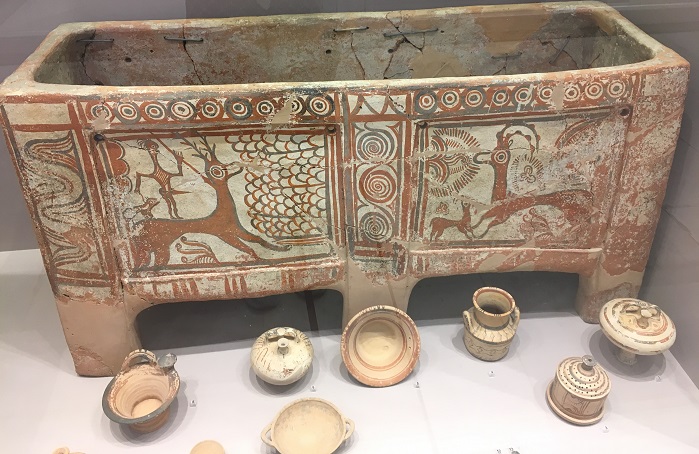 Join Thor and me as we visit a Minoan cemetery and admire the painted larnakes — earthenware caskets — and grave offerings in museums on Crete.
NOTE: Of course, Thor and I had to make another trip to Greece, as he's fallen as much in love with the islands as I am. This time, in addition to other island-hopping, I wanted to return to Crete after 37 years. My first months-long trip was as a hippie backpacker, camping in the ruins and falling under the spell of the mysterious, vanished Minoan culture. This time, I got to introduce Thor to "glorious Kriti" and research more settings for my novel-in-progress, THE ARIADNE DISCONNECT. This new blog series started October 19, 2019, and will continue every Saturday.
If you've been following this blog series, you're aware that there is very little written history about the Minoans, so our knowledge is pieced together by experts from physical evidence of archaeology. I'll discuss sacred rituals and artifacts in next week's post, but the consensus seems to be that the Minoans honored the sacred forces of nature, as well as venerating an Earth Goddess similar to those worshiped in much of the Middle East of the time. They did not build elaborate temples or tombs such as those in Egypt, but in the early stages buried their dead in natural caves or group graves. Later they developed cemeteries with chambers to hold the larnax casket with the body, accompanied by grave goods. As Arthur Cotterell puts it in THE MINOAN WORLD, the dead one "has gone to the last resting place within the full bosom of the mother-goddess." (pg. 184)
When Thor and I arrived on Crete, one of our first stops, just south of the port city of Rethymnon, was at the late-period Minoan cemetery of Armeni. At the end of our trip, we visited the famous palace complex at Knossos and toured the artifacts in the nearby Iraklion Museum of Archaeology, so here I'll combine what we learned at both sites. First, one of the excavated tombs at Armeni: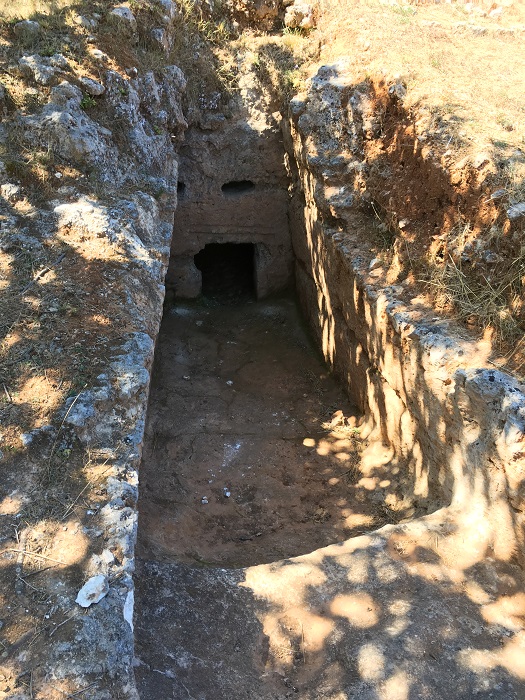 Because our Book View Cafe website server at this point may not handle many photos, I'm posting my complete blog entries on my own author website at www.sarastamey.com, where you can finish this episode and enjoy all the accompanying photos. Please continue reading by clicking on the link below, then you can return here (use "go back" arrow above) to comment, ask questions, or join a conversation. We love your responses!
https://sarastamey.com/the-rambling-writer-returns-to-crete-part-19-minoan-burial-practices/
*****
You will find The Rambling Writer's blog posts here every Saturday. Sara's latest novel from
Book View Cafe is available in print and ebook: The Ariadne Connection.  It's a near-future thriller set in the Greek islands. "Technology triggers a deadly new plague. Can a healer find the cure?"  The novel has received the Chanticleer Global Thriller Grand Prize and the Cygnus Award for Speculative Fiction. Sara has recently returned from another research trip in Greece and is back at work on the sequel, The Ariadne Disconnect. Sign up for her quarterly email newsletter at www.sarastamey.com