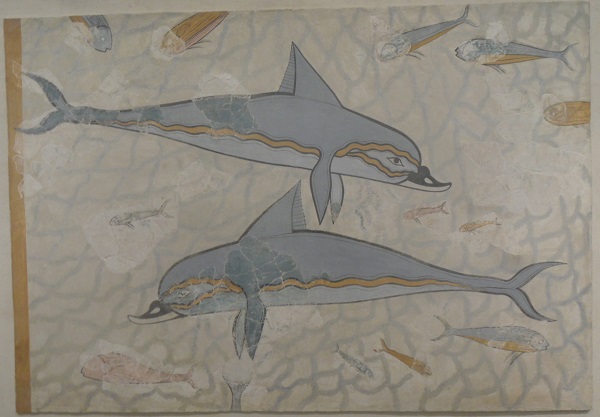 Join Thor and me as we marvel at the glorious, joyful images capturing slices of life in the vanished Minoan culture.
NOTE: Of course, Thor and I had to make another trip to Greece, as he's fallen as much in love with the islands as I am. This time, in addition to other island-hopping, I wanted to return to Crete after 37 years. My first months-long trip was as a hippie backpacker, camping in the ruins and falling under the spell of the mysterious, vanished Minoan culture. This time, I got to introduce Thor to "glorious Kriti" and research more settings for my novel-in-progress, THE ARIADNE DISCONNECT. This new blog series started October 19, 2019, and will continue every Saturday.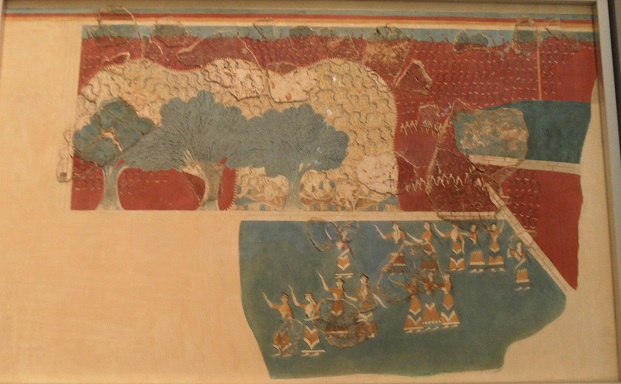 As some of you have been eagerly anticipating a tour of the original frescoes in the Iraklion Museum of Archaeology, most of them from the site of Knossos, I'll give just a bit of context. For more information on other artifacts and some history, check out my earlier posts here (every Saturday). To quote historian Arthur Cotterell in THE MINOAN WORLD:
"The painting of walls on Crete is known from the beginning of the old palaces (c. 2000 BC). Traces of frescoes have been recovered in palaces, houses, and villas, but it was probably not until the era of the new palaces (c. 1700 BC) that geometric designs gave way to naturalistic representation. The vast majority of surviving Minoan frescoes were made in the century prior to the disaster of 1450 BC. They are true frescoes; artists painted on wet plaster, working quickly as the plaster dried out. Their vivid colours are derived mainly from mineral substances – blue, silicate of copper; white, hydrate of lime; red, haematite; yellow, ochre; and black, carbonaceous shale. The frescoes vary in size, according to the area of wall available, and occasionally the scene painted has been modelled in very low relief on the plaster. Subjects indicate the popularity of the bull games as well as the prominence of women in Minoan society. The most elaborate fresco at Knossos was painted on the walls of the Corridor of the Procession and in the South Propylon. Originally it may well have been composed of hundreds of gift-bearers — handsome, long-haired youths wearing ornaments and loincloths." (pg. 138)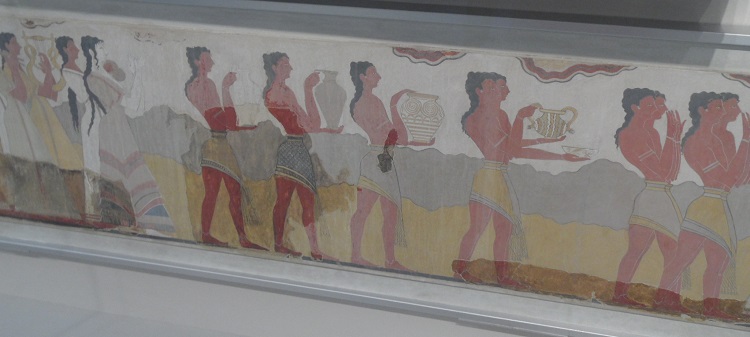 Because our Book View Cafe website server at this point may not handle many photos, I'm posting my complete blog entries on my own author website at www.sarastamey.com, where you can finish this episode and enjoy all the accompanying photos. Please continue reading by clicking on the link below, then you can return here (use "go back" arrow above) to comment, ask questions, or join a conversation. We love your responses!
https://sarastamey.com/the-rambling-writer-returns-to-crete-part-18-minoan-frescoes/
*****
You will find The Rambling Writer's blog posts here every Saturday. Sara's latest novel from Book View Cafe is available in print and ebook: The Ariadne Connection.  It's a near-future thriller set in the Greek islands. "Technology triggers a deadly new plague. Can a healer find the cure?"  The novel has received the Chanticleer Global Thriller Grand Prize and the Cygnus Award for Speculative Fiction. Sara has recently returned from another research trip in Greece and is back at work on the sequel, The Ariadne Disconnect. Sign up for her quarterly email newsletter at www.sarastamey.com