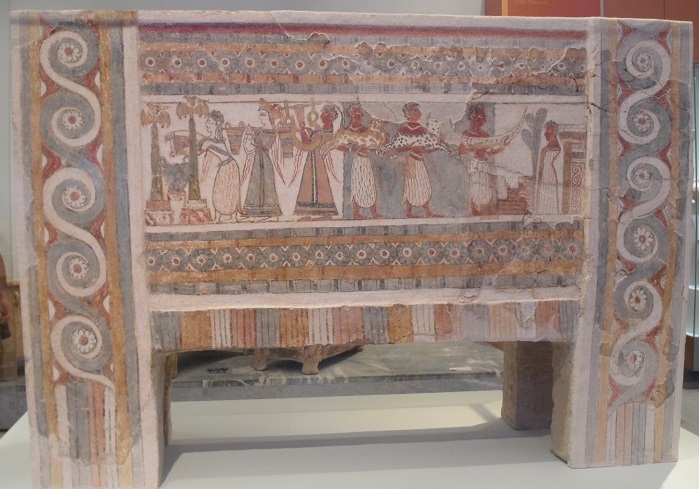 It's Thor's turn to weigh in on our Greek rambles. After all, he's been my hero driver and beloved companion on many adventures!
NOTE: Of course, Thor and I had to make another trip to Greece, as he's fallen as much in love with the islands as I am. This time, in addition to other island-hopping, I wanted to return to Crete after 37 years. My first months-long trip was as a hippie backpacker, camping in the ruins and falling under the spell of the mysterious, vanished Minoan culture. This time, I got to introduce Thor to "glorious Kriti" and research more settings for my novel-in-progress, THE ARIADNE DISCONNECT. This new blog series started October 19, 2019, and will continue every Saturday.
Take it away, Thor!
Sara invited me to contribute a blog post, a good exercise for my brain, which is getting stiff in retirement.  My main function on these trips is driver and muscle.  Drag a big-ass suitcase up three flights of stairs?  I'm your man.  Reach that little pull chain on the ceiling fan?  I can do it.  I enjoy the ancient ruins, especially the spectacular ones like the Parthenon: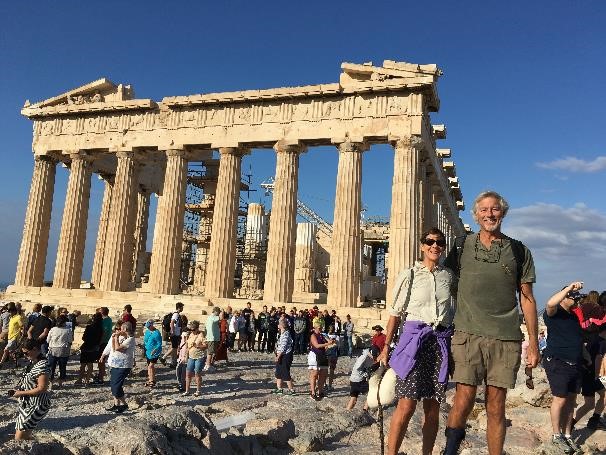 But let's be honest, most ancient Greek ruins look something like this: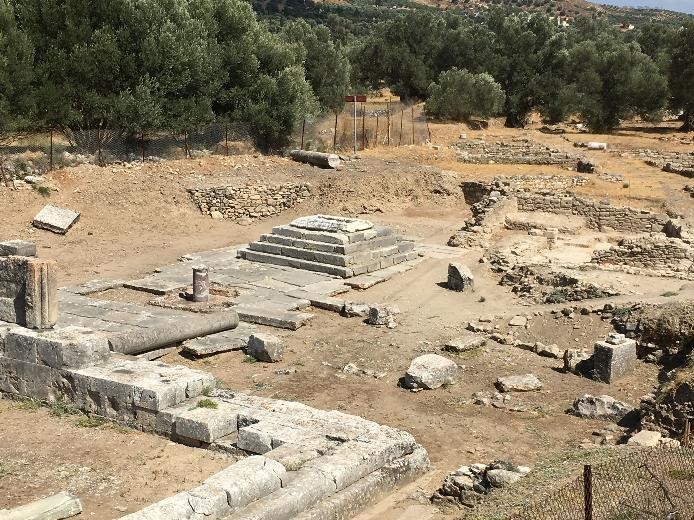 And that is a good one!  You will see a road sign heralding "The Ancient Agora of Agatha" and you will turn off and pay your 3 euro admission fee and find… rocks, and a broken column or two.  Sara of course is all over this, breathlessly reading the captions for the rocks and taking pictures. You cannot imagine how many kings you never heard of have walked across those very rocks.  I have the patience of a saint and will wander over the rubble with her for a good ten minutes before I start to complain.  My preferences are for the beach, preferably nude ones, where we can swim in the hypnotically clear blue Aegean water, and enjoying Greek seafood with my lovely wife.
Because our Book View Cafe website server at this point may not handle many photos, I'm posting my complete blog entries on my own author website at www.sarastamey.com, where you can finish this episode and enjoy all the accompanying photos. Please continue reading by clicking on the link below, then you can return here (use "go back" arrow above) to comment, ask questions, or join a conversation. We love your responses!
https://sarastamey.com/the-rambling-writer-returns-to-crete-part-15-thors-take-on-the-minoans/
*****
You will find The Rambling Writer's blog posts here every Saturday. Sara's latest novel from
Book View Cafe is available in print and ebook: The Ariadne Connection.  It's a near-future thriller set in the Greek islands. "Technology triggers a deadly new plague. Can a healer find the cure?"  The novel has received the Chanticleer Global Thriller Grand Prize and the Cygnus Award for Speculative Fiction. Sara has recently returned from another research trip in Greece and is back at work on the sequel, The Ariadne Disconnect. Sign up for her quarterly email newsletter at www.sarastamey.com