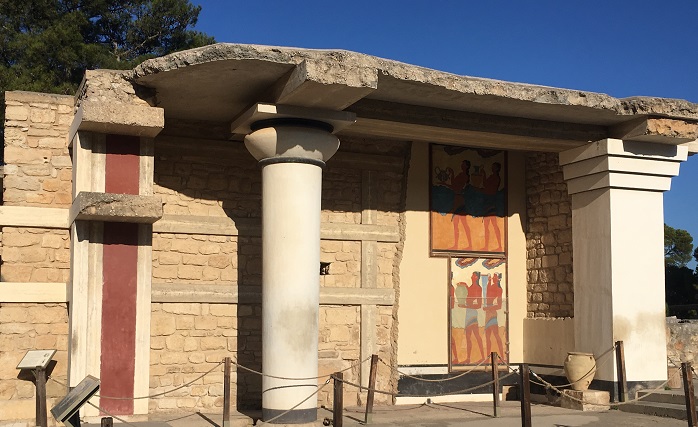 Wander the restorations of the labyrinthine palace-complex of ancient Knossos with Thor and me!
NOTE: Of course, Thor and I had to make another trip to Greece, as he's fallen as much in love with the islands as I am. This time, in addition to other island-hopping, I wanted to return to Crete after 37 years. My first months-long trip was as a hippie backpacker, camping in the ruins and falling under the spell of the mysterious, vanished Minoan culture. This time, I got to introduce Thor to "glorious Kriti" and research more settings for my novel-in-progress, THE ARIADNE DISCONNECT. This new blog series started October 19, 2019, and will continue every Saturday.
I have to confess that no matter how many guides and diagrams of Knossos I peruse, the more I become lost in the labyrinth! When you visit the site, it's easy to get turned around among the twists and different levels, despite the best efforts of the signposts to provide context. Thor and I tend to avoid guided tours as too constricting being part of the herd, so here is the Sara version of a Knossos ramble. Sometimes it's most gratifying to just find a quiet spot where the sense of place and the layers of history whisper to you to pause and reflect.
In my previous posts (every Saturday), we saw some of the site and the early artifacts in the Iraklion Museum of Archaeology, for some historical context. Upcoming will be the rest of the museum, with its fantastic collection of Minoan artifacts and excellent historical information. I make no claim to be a historian, but briefly:
Scholars define the Minoan Bronze Age culture as stretching from 2700 to 1100 BC, on the islands of Crete and Thira (Santorini). Knossos was the biggest of their fabled 90 or 99 cities, referenced many hundreds of years later by Greek epic poet Homer. The Minoans and their cities later were relegated to the status of myth until Sir Arthur Evans bought the rubble-strewn site of Knossos in the early 1900s and excavated an astonishing palace complex. Although his reconstructions are considered controversially-styled by current archaeologists, it's a wonderful experience to wander the partially-reconstructed labyrinth for a visceral understanding of the spaces these vanished people inhabited.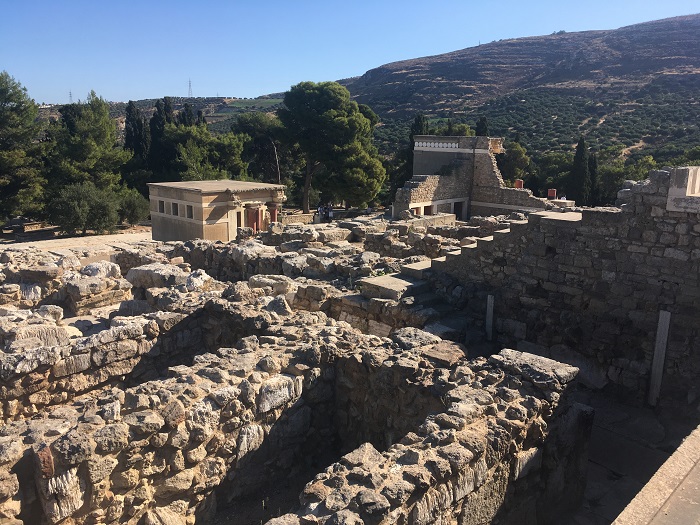 Because our Book View Cafe website server at this point may not handle many photos, I'm posting my complete blog entries on my own author website at www.sarastamey.com, where you can finish this episode and enjoy all the accompanying photos. Please continue reading by clicking on the link below, then you can return here (use "go back" arrow above) to comment, ask questions, or join a conversation. We love your responses!
https://sarastamey.com/the-rambling-writer-returns-to-crete-part-13-a-tour-of-minoan-knossos/
*****
You will find The Rambling Writer's blog posts here every Saturday. Sara's latest novel from
Book View Cafe is available in print and ebook: The Ariadne Connection.  It's a near-future thriller set in the Greek islands. "Technology triggers a deadly new plague. Can a healer find the cure?"  The novel has received the Chanticleer Global Thriller Grand Prize and the Cygnus Award for Speculative Fiction. Sara has recently returned from another research trip in Greece and is back at work on the sequel, The Ariadne Disconnect. Sign up for her quarterly email newsletter at www.sarastamey.com