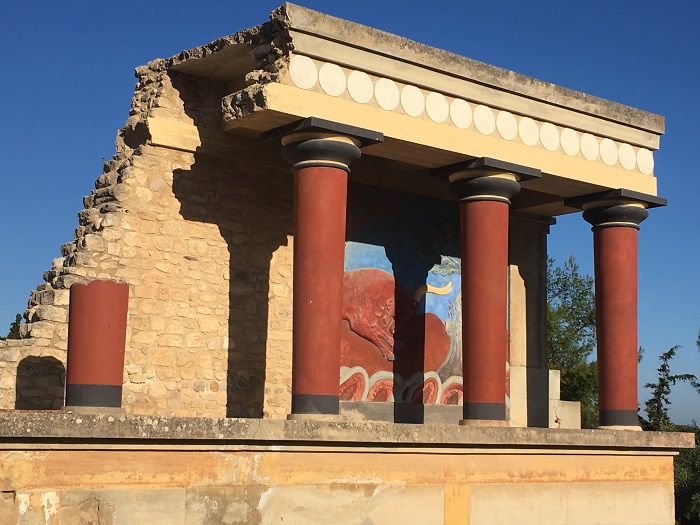 Join Thor and me for an introduction to the reconstructed Minoan site of Knossos, with some peeks at related treasures in the Iraklion Museum of Archaeology.
NOTE: Of course, Thor and I had to make another trip to Greece, as he's fallen as much in love with the islands as I am. This time, in addition to other island-hopping, I wanted to return to Crete after 37 years. My first months-long trip was as a hippie backpacker, camping in the ruins and falling under the spell of the mysterious, vanished Minoan culture. This time, I got to introduce Thor to "glorious Kriti" and research more settings for my novel-in-progress, THE ARIADNE DISCONNECT. This new blog series started October 19, 2019, and will continue every Saturday.
After a quick trip to the archaeology museum after our arrival in Iraklion (they kicked us out at closing time), Thor and I had a better sense of context for our early-morning visit to ancient Knossos. Then we had time to return to the museum in the afternoon and really absorb the amazing contents arranged historically, the finest collection of Minoan artifacts in the world (naturally, here on Crete). In this overview, we'll accordingly hop back and forth from site to museum artifacts. Upcoming blog posts will delve into more details, so hang on….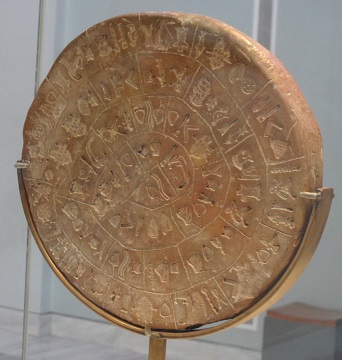 Like the mysterious and so-far-indecipherable Phaistos Disk, the history of the Minoans (or Keftiu) is tantalizingly speculative. Their Linear A script has not been translated, and there are few historical references except from later Greek historians/storytellers and myths. Most of what we know comes from excavations and interpretations of architecture, burial sites, frescoes, abundantly traded pottery, and other art. The general consensus is that they were a peaceful society that celebrated nature and successfully traded goods across the Aegean. Women were apparently equal with men (very unusual in any culture!), and especially honored as priestesses. The people built labyrinthine palace/city structures, but suffered from serial earthquakes and the catastrophic tidal wave from the eruption of Thira (Santorini), after which their influence waned.
Because our Book View Cafe website server at this point may not handle many photos, I'm posting my complete blog entries on my own author website at www.sarastamey.com, where you can finish this episode and enjoy all the accompanying photos. Please continue reading by clicking on the link below, then you can return here (use "go back" arrow above) to comment, ask questions, or join a conversation. We love your responses!
https://sarastamey.com/the-rambling-writer-returns-to-crete-part-11-knossos-and-archaeological-treasures/
*****
You will find The Rambling Writer's blog posts here every Saturday. Sara's latest novel from
Book View Cafe is available in print and ebook: The Ariadne Connection.  It's a near-future thriller set in the Greek islands. "Technology triggers a deadly new plague. Can a healer find the cure?"  The novel has received the Chanticleer Global Thriller Grand Prize and the Cygnus Award for Speculative Fiction. Sara has recently returned from another research trip in Greece and is back at work on the sequel, The Ariadne Disconnect. Sign up for her quarterly email newsletter at www.sarastamey.com