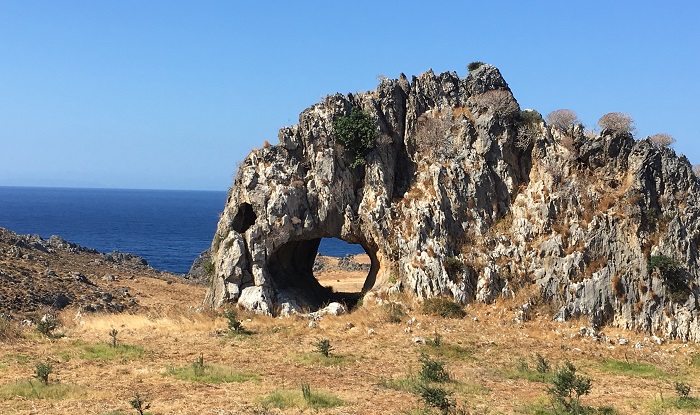 Thor and I diligently pursue our physical and spiritual therapy in the clear, nurturing Mediterranean off Southern Crete.
NOTE: Of course, Thor and I had to make another trip to Greece, as he's fallen as much in love with the islands as I am. This time, in addition to other island-hopping, I wanted to return to Crete after 37 years. My first months-long trip was as a hippie backpacker, camping in the ruins and falling under the spell of the mysterious, vanished Minoan culture. This time, I got to introduce Thor to "glorious Kriti" and research more settings for my novel-in-progress, THE ARIADNE DISCONNECT. This new blog series started October 19, 2019, and will continue every Saturday.
After the storm riled up the sea (blog post 11/16/19), Thor and I made the most of our last full day on the south coast to plunge in at two beaches. (Doctors' orders to rehab our leg and hip injuries: swim as much as we could!) First we revisited Skinnaria beach in its steep, rocky cove, where the water was still a bit rough but bracing.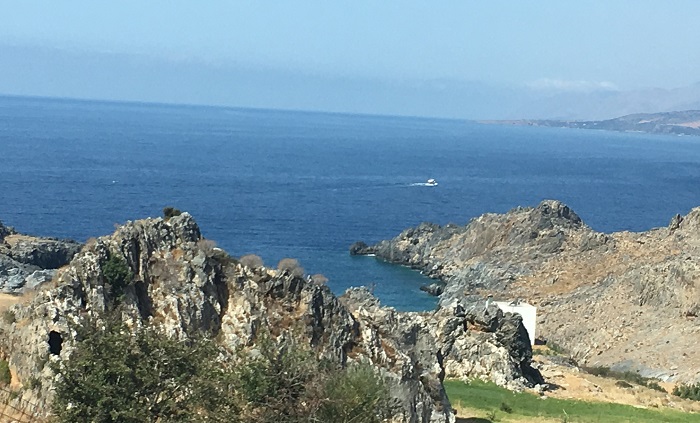 The narrow road up and down was also "bracing," with its steep turns and jagged rock formations (also top photo).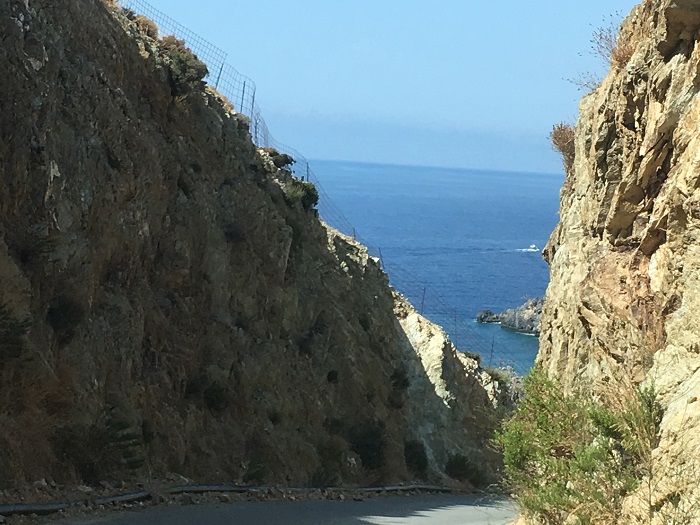 Because our Book View Cafe website server at this point may not handle many photos, I'm posting my complete blog entries on my own author website at www.sarastamey.com, where you can finish this episode and enjoy all the accompanying photos. Please continue reading by clicking on the link below, then you can return here (use "go back" arrow above) to comment, ask questions, or join a conversation. We love your responses!
https://sarastamey.com/the-rambling-writer-returns-to-crete-part-7-back-to-the-sea/
*****
You will find The Rambling Writer's blog posts here every Saturday. Sara's latest novel from
Book View Cafe is available in print and ebook: The Ariadne Connection.  It's a near-future thriller set in the Greek islands. "Technology triggers a deadly new plague. Can a healer find the cure?"  The novel has received the Chanticleer Global Thriller Grand Prize and the Cygnus Award for Speculative Fiction. Sara has recently returned from another research trip in Greece and is back at work on the sequel, The Ariadne Disconnect. Sign up for her quarterly email newsletter at www.sarastamey.com