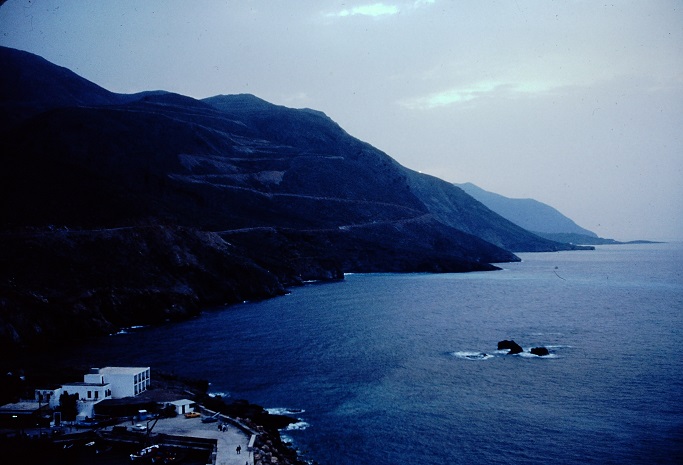 Another flashback to my hippie backpacking days on Crete, camping and exploring the rugged south coast.
NOTE: Of course, Thor and I had to make another trip to Greece, as he's fallen as much in love with the islands as I am. This time, in addition to other island-hopping, I wanted to return to Crete after 37 years. My first months-long trip was as a hippie backpacker, camping in the ruins and falling under the spell of the mysterious, vanished Minoan culture. This time, I got to introduce Thor to "glorious Kriti" and research more settings for my novel-in-progress, THE ARIADNE DISCONNECT. This new blog series started October 19, 2019, and will continue every Saturday.
"The best laid plans of mice and (wo)men…." In last week's post, I promised photos and stories of Thor's and my arrival in South Crete, but alas my computer decided otherwise. Remember when we actually believed that computers were going to be as friendly as the "Star Trek" cheerily helpful, all-knowing AI? My newish computer keeps throwing nasty surprises in my path, eating up way too much time and energy to address, so today we're going to revisit another rough-and-ready episode from my early days on Crete. Tighten your backpack straps and join me!
After arriving by overnight ferry on the north coast of Crete, my partner Jim and I had followed a winding thread across the mountainous island, involving some rattletrap bus rides, cheerful misdirections, and a 3-hour stumble in the deepening dusk down a rocky cliffside trail carrying a heavy backpack. We were heading toward a remote cove and the tiny settlement of Loutro, accessible only by this cliff trail or boat.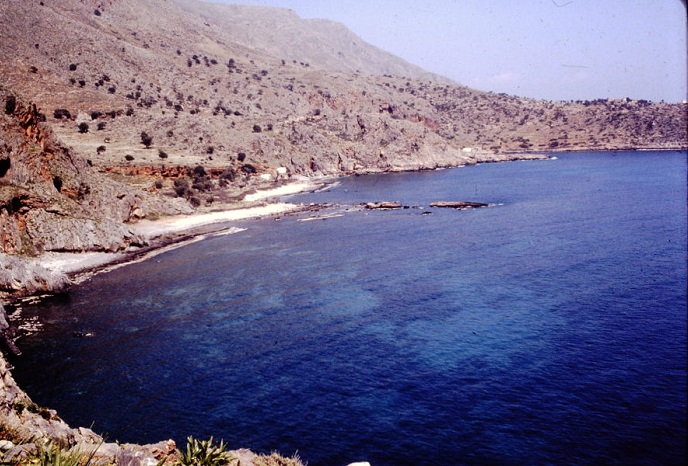 More than a journey through the rugged Cretan landscape, we'd been taking a trip through time—way back to the Minoans or Keftiu, the later Greeks, Romans, Byzantines, Saracen pirates, Venetians, and Turks, and finally the World War II German invasion only an eyeblink earlier in history. We set up camp on the rocky shore above the ruins of what was revealed the next morning to be Venetian fortifications….
Because our Book View Cafe website server at this point may not handle many photos, I'm posting my complete blog entries on my own author website at www.sarastamey.com, where you can finish this episode and enjoy all the accompanying photos. Please continue reading by clicking on the link below, then you can return here (use "go back" arrow above) to comment, ask questions, or join a conversation. We love your responses!
https://sarastamey.com/the-rambling-writer-returns-to-crete-part-4-south-coast-memories/
*****
You will find The Rambling Writer's blog posts here every Saturday. Sara's latest novel from
Book View Cafe is available in print and ebook: The Ariadne Connection.  It's a near-future thriller set in the Greek islands. "Technology triggers a deadly new plague. Can a healer find the cure?"  The novel has received the Chanticleer Global Thriller Grand Prize and the Cygnus Award for Speculative Fiction. Sara has recently returned from another research trip in Greece and is back at work on the sequel, The Ariadne Disconnect. Sign up for her quarterly email newsletter at www.sarastamey.com