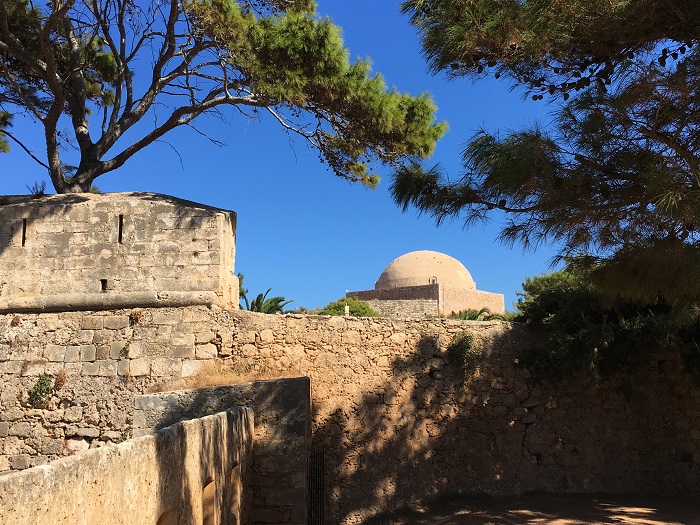 After 37 years, I return to this singular Greek island — virtually a country to itself in size and culture — and bring Thor along to meet "glorious Kriti."
I was a hippie backpacker in my twenties when I first followed my childhood dream to visit Greece, home of the dramatic Olympian deities, Classical marble statues, and the early stirrings of democracy. I had inhaled Greek mythology ever since I could read, but didn't know a lot about the earlier Minoan culture of Crete. My travel partner and I simply decided to take the night ferry from Athens to this largest and southernmost Greek island, camping out on deck through a fierce storm and then approaching the island as dawn sunlight spilled over the mountains and dolphins frisked around the bow of the ferry. I was in love with the island even before disembarking. And as we visited and camped in ancient Minoan sites, I fell even harder for the mysterious and beautiful remnants of the vanished culture here that was the basis for the lost Atlantis myth. The story of princess Ariadne and the Minotaur's labyrinth gave rise to my own novel finished many years later, THE ARIADNE CONNECTION.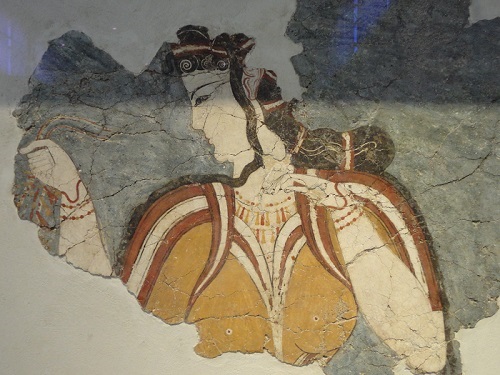 I'm happy that Thor loves the Greek islands as much as I do. We weren't planning a return this year, but since we've both been rehabbing for months with different mobility issues, our physical therapists advised more warm weather and swimming. "Chairete!" (Rejoice!) What could be better for extending summer and swimming than the Greek islands? And now we could add Crete to our ferry-hopping. But first, the gateway city of Athens. We're not jaded enough to skip another visit to the Acropolis and the Parthenon, temple of Athena.
Because our Book View Cafe website server at this point may not handle many photos, I'm posting my complete blog entries on my own author website at www.sarastamey.com, where you can finish this episode and enjoy all the accompanying photos. Please continue reading by clicking on the link below, then you can return here (use "go back" arrow above) to comment, ask questions, or join a conversation. We love your responses!
https://sarastamey.com/the-rambling-writer-returns-to-crete-part-1-rethymno/
*****
You will find The Rambling Writer's blog posts here every Saturday. Sara's latest novel from
Book View Cafe is available in print and ebook: The Ariadne Connection.  It's a near-future thriller set in the Greek islands. "Technology triggers a deadly new plague. Can a healer find the cure?"  The novel has received the Chanticleer Global Thriller Grand Prize and the Cygnus Award for Speculative Fiction. Sara has recently returned from another research trip in Greece and is back at work on the sequel, The Ariadne Disconnect. Sign up for her quarterly email newsletter at www.sarastamey.com