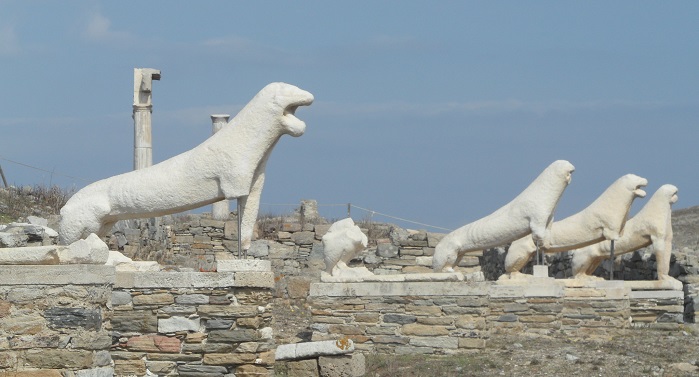 Thor and I are back to continue our tour of the sacred island of Delos, moving onto the temple quarter and Sanctuary of Apollo.
NOTE: Since our recent trip to Greece to research more settings for my novel-in-progress, THE ARIADNE DISCONNECT, Thor and I knew we had to return to this magical region. My first entry in this new blog series posted here on Saturday, 10/20/2018. It gives an overview of our rambles from Athens to seven islands in the Dodecanese and Cyclades groups, ending our ferry-hopping pilgrimage on the anciently sacred island of Delos.
As we saw in the residential and Theater Quarter a couple weeks ago, the extensive ruins spreading over the island, still mostly unexcavated, make it confusing to sort out for the casual visitor. We were glad that we'd signed up for the boat trip and tour with our archaeologist guide Ariadne, as she could explain the highlights. In this shot of part of the temple quarter near the harbor, you can see the tangle: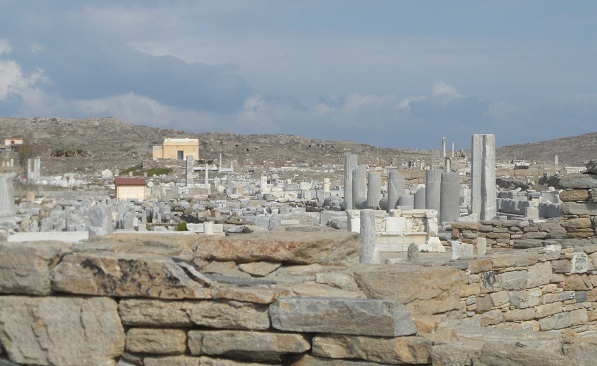 We regrouped at the Agora, or open gathering place. Even on this isolated small island, inhabited now only by archaeologists and staff, there were roaming cats beloved of the Greeks. Maybe they feel an affinity with the ancient guardian lions of the island (top photo). Can you spot the second cat?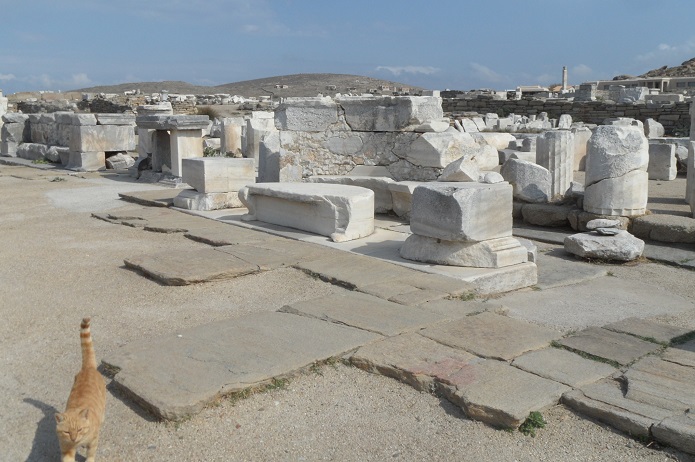 Because our Book View Cafe website server at this point may not handle many photos, I'm posting my complete blog entries on my own author website at www.sarastamey.com, where you can finish this episode and enjoy all the accompanying photos. Please continue reading by clicking on the link below, then you can return here (use "go back" arrow above) to comment, ask questions, or join a conversation. We love your responses!
https://sarastamey.com/the-rambling-writer-explores-more-greek-islands-part-37-delos-temple-quarter/
*****
You will find The Rambling Writer's blog posts here every Saturday. Sara's latest novel from
Book View Cafe is available in print and ebook: The Ariadne Connection.  It's a near-future thriller set in the Greek islands. "Technology triggers a deadly new plague. Can a healer find the cure?"  The novel has received the Chanticleer Global Thriller Grand Prize and the Cygnus Award for Speculative Fiction. Sara has recently returned from another research trip in Greece and is back at work on the sequel, The Ariadne Disconnect. Sign up for her quarterly email newsletter at www.sarastamey.com