My sweetheart and I walked over to Oakland's Morcom Rose Garden on Sunday. This gorgeous park, set into a hill, was built in the 1930s by the Works Progress Administration and includes thousands of roses along with assorted trees, a reflecting pool, lots of stairs and pathways, and well-arranged rocks and walls.
Other people wandered through the park, ranging in age from the baby whose mother let it crawl in the grass to folks likely older than us. We also had company from crows, other birds, squirrels, and even a turkey.
The walk left us at peace. Green spaces, whether semi-wild or very tamed like the Rose Garden, do that.
We went in part because I recently read Jenny Odell's book How to Do Nothing. Though I don't know her personally, Odell, an artist, teacher, and writer, lives not far from me and often spends time in the Rose Garden herself.
Her book also mentioned the oldest old-growth redwood in Oakland, which we went to see a few weeks ago.
While we are generally people who try to get out in nature regularly, we haven't been on our usual backpacking trips this year. I was starting to feel like we weren't getting out and about as much as we should, not just in nature, but also to things like lectures and movies.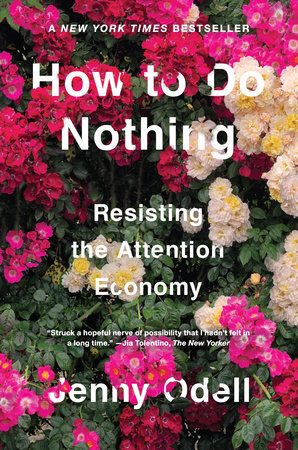 Reading Odell's book motivated me to plan to do something out of our usual routine on a regular basis. And, in the spirit of "doing nothing," the Rose Garden was an excursion that didn't involve much planning. It's only a mile away.
Odell's book may be called How to Do Nothing, but it is not about goofing off. The subtitle gives a clue to where it's going: "Resisting the Attention Economy." But this is far from the usual screed about putting down your phones. It's rather about taking the time to pay true attention to the world around you.
Odell even uses an app on her phone to look up plants and birds when she needs to, making the point that you can use your tools on your own terms. Her book is about something much more important than whether this or that bit of modern tech is too much of a distraction. As she writes in the introduction:
[This book] is a field guide to doing nothing as an act of political resistance to the attention economy…. I want this not only for artists and writers, but for any person who perceives life to be more than an instrument and therefore something that cannot be optimized.
"Bartleby, the Scrivener" comes in for discussion, as does Diogenes, who "neither assimilated to nor fully exited society." Odell gives us exercises in paying attention, including listening to such things as John Cage's famous composition 4'33" or looking at long videos of one particular place, which can make us more aware of everything around us.
She gets into what she calls the ecology of strangers.
As physical beings, we are literally open to the world, suffused every second with air from somewhere else; as social beings, we are equally determined by our contexts. If we can embrace that, then we can begin to appreciate our and others' identities as the emergent and fluid wonders that they are.
And that, she adds, can open us to "new and previously unimaginable ideas."
The conclusion is called "Manifest Dismantling." Also, she watches birds.
I got the book from my library, but I'm going to buy my own copy. I need to read it again. And probably again after that.