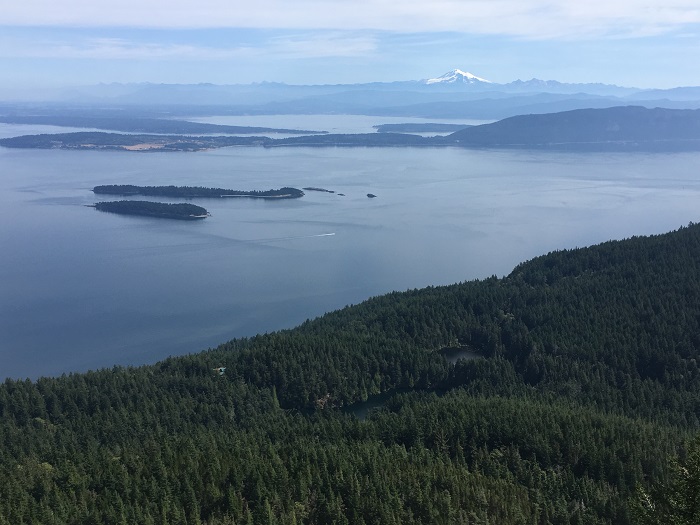 Join Thor and me on a getaway through the beautiful Salish Sea and the islands of my native Pacific Northwest.
NOTE: I'll return to my latest Greek Islands journey in next week's blog post as Thor and I explore the sacred island of Delos. But, meanwhile, a very different island!
Seemingly out of the blue, a former Paleontology colleague of Thor's contacted him, years after Thor had lost touch with him. Seems that Norm had retired from academia and made a bold move to work for years at Microsoft. Now he and his wife Susan had retired and bought their dream home halfway up the mountain on Orcas Island. And they wanted us to come stay for a few days. Some of my fondest early memories are of family camping trips on Orcas Island, and I've always loved taking the Washington State ferries through the San Juan Islands, so off we sailed!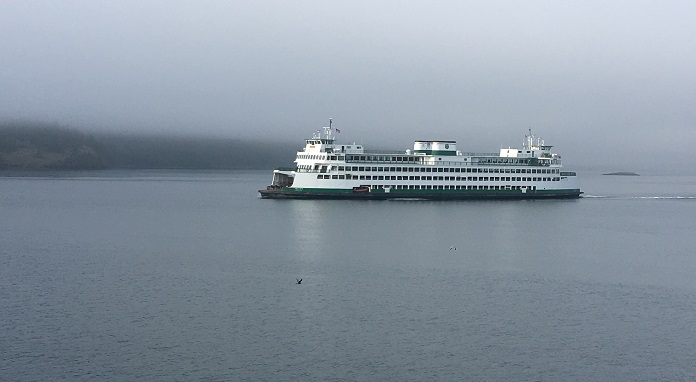 You may notice the low clouds and mist. Even August in the Pacific Northwest can involve cool rain, and our three day trip featured alternating sunshine, clouds, and one real downpour. At least this year we are not breathing wildfire smoke, as we did for weeks last year!
The Coast Salish natives plied these waters in their canoes and thrived on the bounty of sea and land. Then European explorers led by George Vancouver "discovered" the islands in 1791, and a Spanish expedition named the islands the San Juans. By 1859, Washington State and the British on Vancouver Island were tussling over border boundaries, and the tension erupted in the notorious Pig War (triggered by a pig that was shot). No human casualties involved, and eventually the borders were settled. In 2009 (U.S.) and 2010 (Canada), Puget Sound and the Straits of Georgia and Juan de Fuca were officially renamed the Salish Sea.
Because our Book View Cafe website server at this point may not handle many photos, I'm posting my complete blog entries on my own author website at www.sarastamey.com, where you can finish this episode and enjoy all the accompanying photos. Please continue reading by clicking on the link below, then you can return here (use "go back" arrow above) to comment, ask questions, or join a conversation. We love your responses!
https://sarastamey.com/the-rambling-writer-takes-a-detour-to-the-san-juan-islands/
*****
You will find The Rambling Writer's blog posts here every Saturday. Sara's latest novel from
Book View Cafe is available in print and ebook: The Ariadne Connection.  It's a near-future thriller set in the Greek islands. "Technology triggers a deadly new plague. Can a healer find the cure?"  The novel has received the Chanticleer Global Thriller Grand Prize and the Cygnus Award for Speculative Fiction. Sara has recently returned from another research trip in Greece and is back at work on the sequel, The Ariadne Disconnect. Sign up for her quarterly email newsletter at www.sarastamey.com