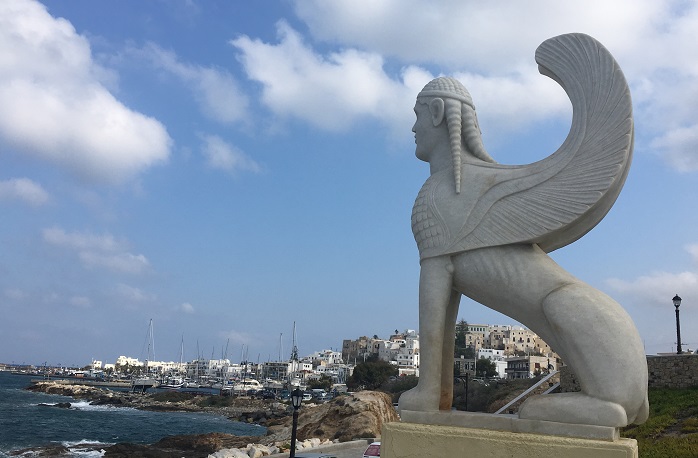 Join Thor and me as we explore more of the town's labyrinthine lanes, including a Venetian tower.
NOTE: Since our recent trip to Greece to research more settings for my novel-in-progress, THE ARIADNE DISCONNECT, Thor and I knew we had to return to this magical region. My first entry in this new blog series posted here on Saturday, 10/20/2018. It gives an overview of our rambles from Athens to seven islands in the Dodecanese and Cyclades groups, ending our ferry-hopping pilgrimage on the anciently sacred island of Delos.
Our usual Greek island visits feature a lot of swimming in the luminous, deep-blue sea, but by the time we arrived on Naxos it was early October, windy and cool. (Perhaps still some after-effects of Cyclone Zorba?) After a Very frigid swim among the mysterious boulders of Mikra Vigla beach (somehow I lost those photos), we warmed up with more exploration of Naxos Town's charming byways. A modern sculpture of the ancient sphinx watches over the harbor (above). The cobbled lanes' twists and turns were designed, from ancient days, to thwart attackers by confusing them. It works!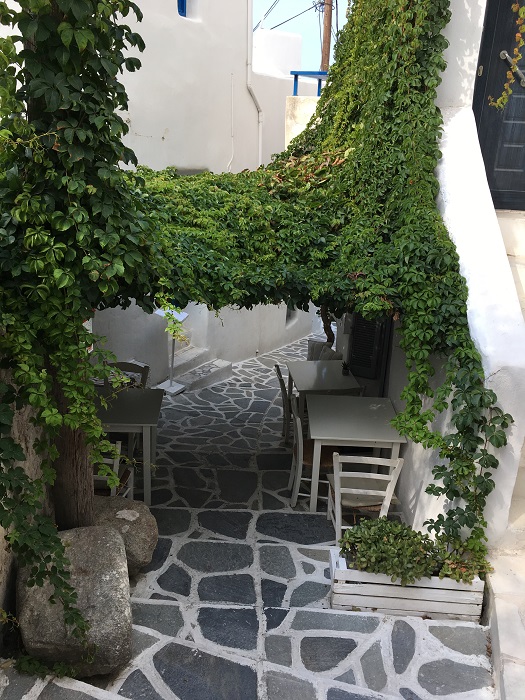 Thor likes to envision a scenario in which marauding pirates encounter souvlaki tavernas and souvenir vendors in the narrow lanes, and exchange their weapons for cold beer and other goodies….
Because our Book View Cafe website server at this point may not handle many photos, I'm posting my complete blog entries on my own author website at www.sarastamey.com, where you can finish this episode and enjoy all the accompanying photos. Please continue reading by clicking on the link below, then you can return here (use "go back" arrow above) to comment, ask questions, or join a conversation. We love your responses!
https://sarastamey.com/the-rambling-writer-explores-more-greek-islands-part-31-naxos-town-tower/
*****
You will find The Rambling Writer's blog posts here every Saturday. Sara's latest novel from
Book View Cafe is available in print and ebook: The Ariadne Connection.  It's a near-future thriller set in the Greek islands. "Technology triggers a deadly new plague. Can a healer find the cure?"  The novel has received the Chanticleer Global Thriller Grand Prize and the Cygnus Award for Speculative Fiction. Sara has recently returned from another research trip in Greece and is back at work on the sequel, The Ariadne Disconnect. Sign up for her quarterly email newsletter at www.sarastamey.com