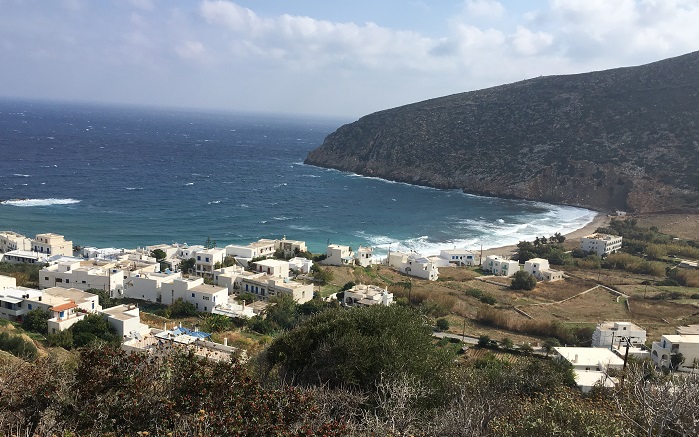 Thor and I visit a quiet coastal village as the tourist season winds down, then crawl into a Mycenaean domed tomb. Stay with us!
NOTE: Since our recent trip to Greece to research more settings for my novel-in-progress, THE ARIADNE DISCONNECT, Thor and I knew we had to return to this magical region. My first entry in this new blog series posted here on Saturday, 10/20/2018. It gives an overview of our rambles from Athens to seven islands in the Dodecanese and Cyclades groups, ending our ferry-hopping pilgrimage on the anciently sacred island of Delos.
If you were with us last week on our drive around the rugged north coast of Naxos, you'll recall that we were paying homage to the giant unfinished statue of Dionysos. Sometimes called a kouros, although it doesn't adhere to the style of the naked-youth statues, it lies in an Archaic open-air mine overlooking the sea and the village of Apollon. (Here we might reopen the raging controversy over which god the bearded statue was intended to represent — Apollo or the island's patron Dionysos. We have firmly sided with the locals: He's Dionysos. There.)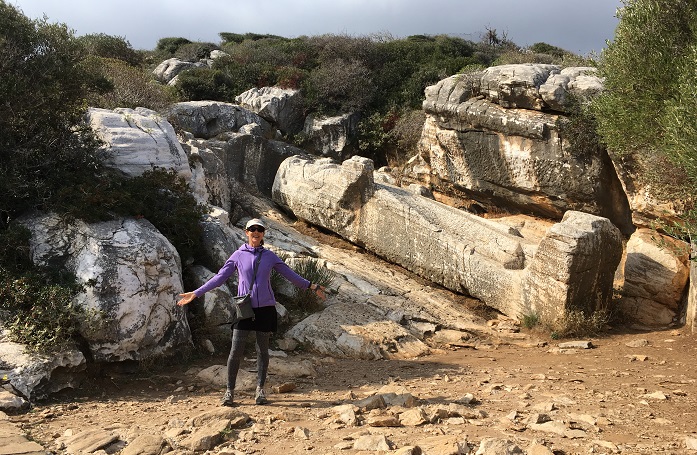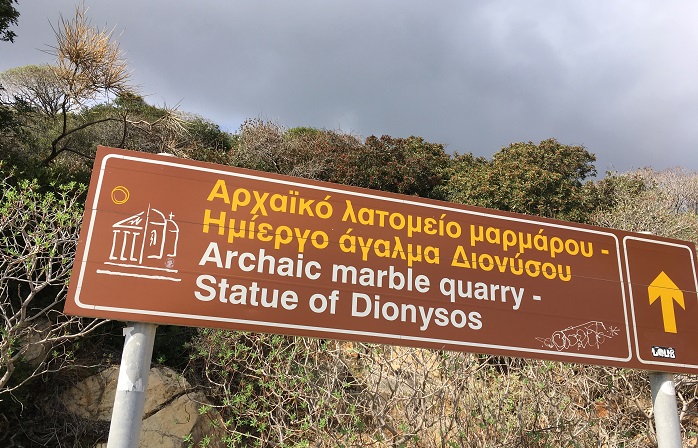 Staying just ahead of dark rain clouds on this cool and blustery day, we dropped down the road's switchbacks to explore the fishing village of Apollon. With a cluster of outdoor taverna and cafe seating along the quay, it's following the pattern of most of the islands in now encouraging tourists to augment the difficult fishing livelihoods. In early October, we had the place mostly to ourselves….
Because our Book View Cafe website server at this point may not handle many photos, I'm posting my complete blog entries on my own author website at www.sarastamey.com, where you can finish this episode and enjoy all the accompanying photos. Please continue reading by clicking on the link below, then you can return here (use "go back" arrow above) to comment, ask questions, or join a conversation. We love your responses!
https://sarastamey.com/the-rambling-writer-explores-more-greek-islands-part-28-a-naxos-fishing-village/
*****
You will find The Rambling Writer's blog posts here every Saturday. Sara's latest novel from
Book View Cafe is available in print and ebook: The Ariadne Connection.  It's a near-future thriller set in the Greek islands. "Technology triggers a deadly new plague. Can a healer find the cure?"  The novel has received the Chanticleer Global Thriller Grand Prize and the Cygnus Award for Speculative Fiction. Sara has recently returned from another research trip in Greece and is back at work on the sequel, The Ariadne Disconnect. Sign up for her quarterly email newsletter at www.sarastamey.com