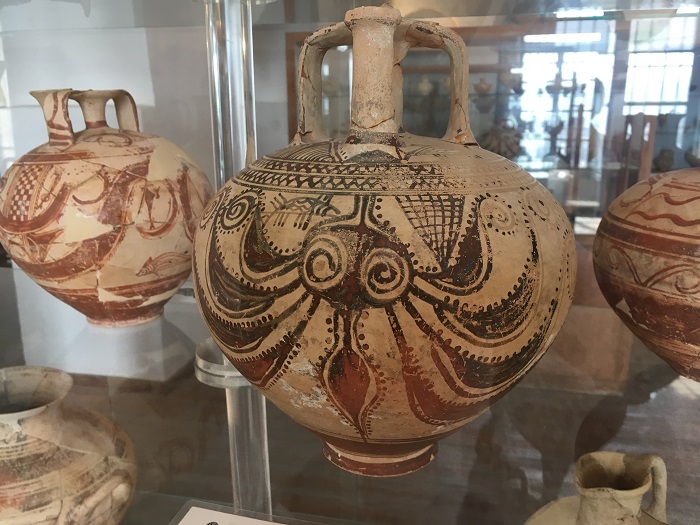 Join Thor and me as we tour the ancient treasures on display in the Archaeological Museum of Naxos.
NOTE: Since our recent trip to Greece to research more settings for my novel-in-progress, THE ARIADNE DISCONNECT, Thor and I knew we had to return to this magical region. My first entry in this new blog series posted here on Saturday, 10/20/2018. It gives an overview of our rambles from Athens to seven islands in the Dodecanese and Cyclades groups, ending our ferry-hopping pilgrimage on the anciently sacred island of Delos.
Fertile Naxos in the Cyclades Islands has been continuously occupied since at least 4000 B.C., and the Naxos Town (also called Hora or Chora) museum offers a lovely selection of artifacts from the Neolithic period through Roman occupation. It's housed in a Venetian building grafted onto earlier Frankish fortifications, including two stone towers. Built around 1700 A.D. for a Jesuit School, it claims Greek novelist Nikos Kazantzakis (author of the wonderful novel Zorba the Greek) as a student. Apparently he was rather rebellious against the rules….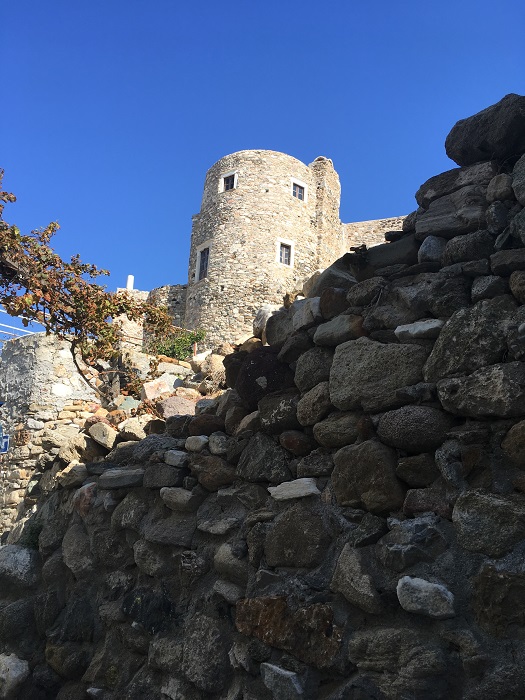 Because our Book View Cafe website server at this point may not handle many photos, I'm posting my complete blog entries on my own author website at www.sarastamey.com, where you can finish this episode and enjoy all the accompanying photos. Please continue reading by clicking on the link below, then you can return here (use "go back" arrow above) to comment, ask questions, or join a conversation. We love your responses!
https://sarastamey.com/the-rambling-writer-explores-more-greek-islands-part-26-naxos-museum/
*****
You will find The Rambling Writer's blog posts here every Saturday. Sara's latest novel from
Book View Cafe is available in print and ebook: The Ariadne Connection.  It's a near-future thriller set in the Greek islands. "Technology triggers a deadly new plague. Can a healer find the cure?"  The novel has received the Chanticleer Global Thriller Grand Prize and the Cygnus Award for Speculative Fiction. Sara has recently returned from another research trip in Greece and is back at work on the sequel, The Ariadne Disconnect. Sign up for her quarterly email newsletter at www.sarastamey.com