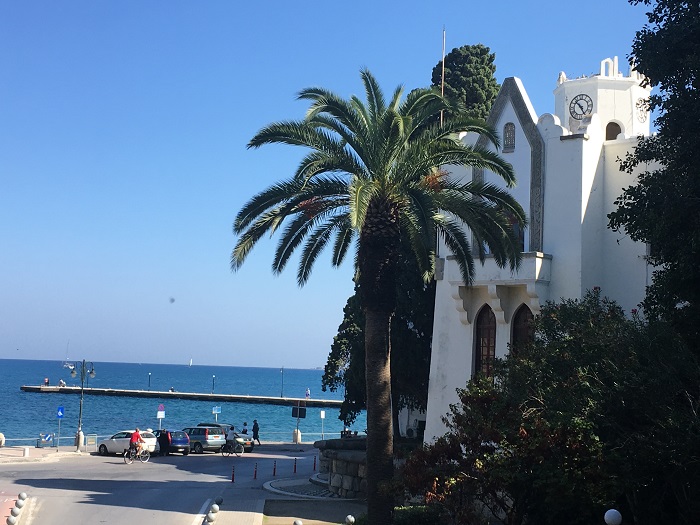 Thor and I bid a wistful farewell to this magical island of healing, but vow to return.
NOTE: Since our recent trip to Greece to research more settings for my novel-in-progress, THE ARIADNE DISCONNECT, Thor and I knew we had to return to this magical region. My first entry in this new blog series posted here on Saturday, 10/20/2018. It gives an overview of our rambles from Athens to seven islands in the Dodecanese and Cyclades groups, ending our ferry-hopping pilgrimage on the anciently sacred island of Delos.
We agree with Lawrence Durrell about Kos, "…the island of Hippocrates, which has never failed to excite the visitor to eulogy. Poet and wayfarer alike have always appreciated Kos for its green abundance and quietness. It lies lapped in a fold of the Turkish mainland, which thrusts out great promontories now, one upon another, with spectacular fjords laid up between. Kos, the most sheltered of the Dodecanese islands and deservedly the most praised. It would be downright dishonest to raise a dissenting voice against merits so self-evident in these green and smiling valleys, rich with fruit and flowers." (from The Greek Islands)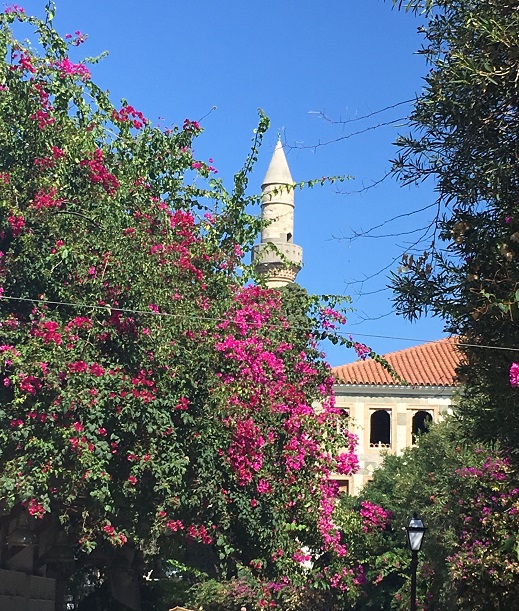 Thor and I are now among Durrell's "addicts" of the island, and in a recent moment of "carpe diem" decided that we must return this coming fall. So stay tuned! Meanwhile, a quick wrap-up of our first stay:
Because our Book View Cafe website server at this point may not handle many photos, I'm posting my complete blog entries on my own author website at www.sarastamey.com, where you can finish this episode and enjoy all the accompanying photos. Please continue reading by clicking on the link below, then you can return here (use "go back" arrow above) to comment, ask questions, or join a conversation. We love your responses!
https://sarastamey.com/the-rambling-writer-explores-more-greek-islands-part-24-farewell-to-kos/
*****
You will find The Rambling Writer's blog posts here every Saturday. Sara's latest
novel from Book View Cafe is available in print and ebook: The Ariadne Connection.  It's a near-future thriller set in the Greek islands. "Technology triggers a deadly new plague. Can a healer find the cure?"  The novel has received the Chanticleer Global Thriller Grand Prize and the Cygnus Award for Speculative Fiction. Sara has recently returned from another research trip in Greece and is back at work on the sequel, The Ariadne Disconnect. Sign up for her quarterly email newsletter at www.sarastamey.com