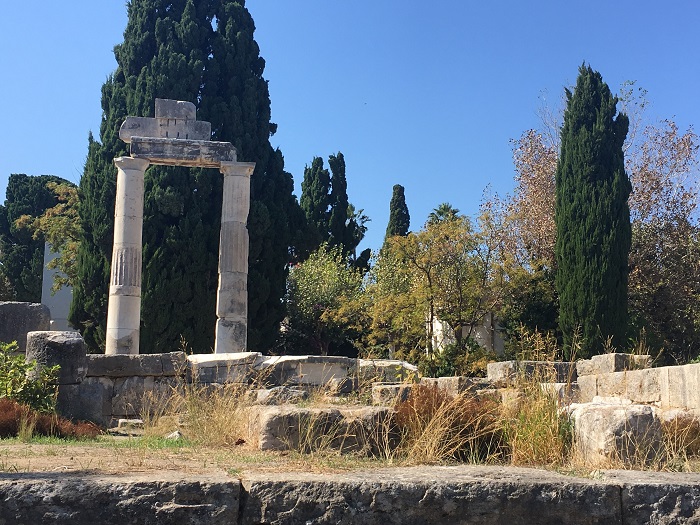 Join Thor and me as we wander the charming harbor town of Kos, where history and natural beauty flourish.
NOTE: Since our recent trip to Greece to research more settings for my novel-in-progress, THE ARIADNE DISCONNECT, Thor and I knew we had to return to this magical region. My first entry in this new blog series posted here on Saturday, 10/20/2018. It gives an overview of our rambles from Athens to seven islands in the Dodecanese and Cyclades groups, ending our ferry-hopping pilgrimage on the anciently sacred island of Delos.
The only "big city" on Kos island was first inhabited in the Early Bronze Age (2300-2000 BC), and became an important trading port during the Minoan and Mycenaean periods (2nd millenium BC), and then later during Archaic and Classical times (7th-5th century BC). The fertile island was rich enough to send 30 ships to the Trojan War. Today it is still famous as the birthplace of Hippocrates (460-377 BC), the "father of modern medicine," and Thor was eager to visit the Plane Tree of Hippocrates in Kos Town.
As we parked on the outskirts of the town center and started wandering the pleasant, tree-shaded lanes, we realized that the modern town curves around and embraces remnants of all these ancient periods, in addition to early Byzantine, Medieval Knights, Ottoman Turks, and Italian occupations.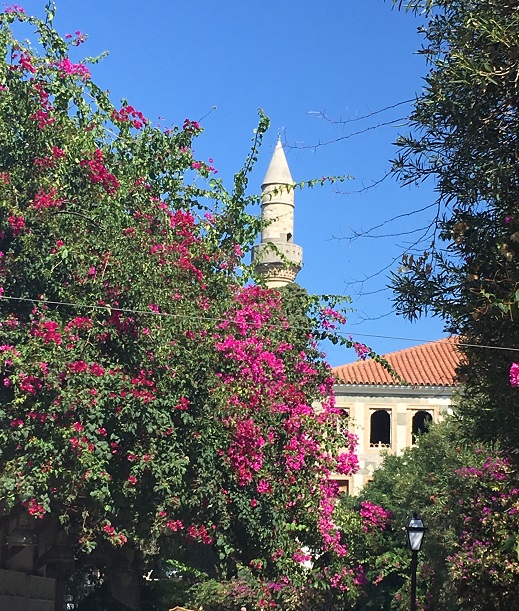 We learned that in this realm of "the earth-shaking god" Poseidon, the town suffered many earthquakes over the centuries that would level buildings and spur new reconstructions. The latest major earthquake, in 1933 AD, destroyed the modern city but revealed many of the historic footings. The occupying Italians and later groups have accomplished restorations, but there are many sites awaiting attention. We first explored the ancient Agora (top photo), first built in 366 BC, and at 350 meters long one of the largest in the ancient world….
Because our Book View Cafe website server at this point may not handle many photos, I'm posting my complete blog entries on my own author website at www.sarastamey.com, where you can finish this episode and enjoy all the accompanying photos. Please continue reading by clicking on the link below, then you can return here (use "go back" arrow above) to comment, ask questions, or join a conversation. We love your responses!
https://sarastamey.com/the-rambling-writer-explores-more-greek-islands-part-20-kos-town/
*****
You will find The Rambling Writer's blog posts here every Saturday. Sara's latest novel from
Book View Cafe is available in print and ebook: The Ariadne Connection.  It's a near-future thriller set in the Greek islands. "Technology triggers a deadly new plague. Can a healer find the cure?"  The novel has received the Chanticleer Global Thriller Grand Prize and the Cygnus Award for Speculative Fiction. Sara has recently returned from another research trip in Greece and is back at work on the sequel, The Ariadne Disconnect. Sign up for her quarterly email newsletter at www.sarastamey.com