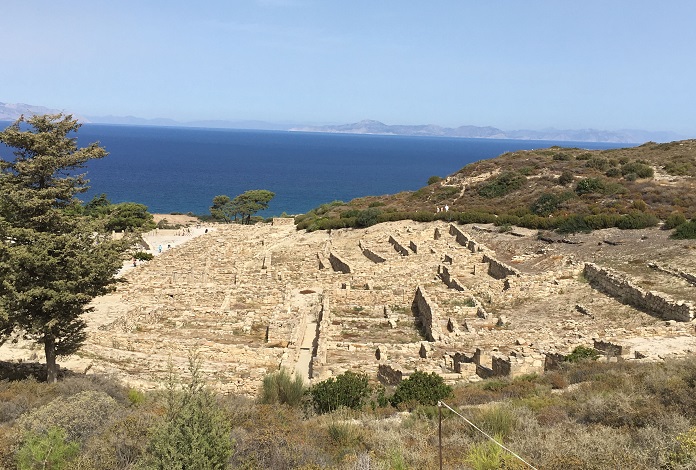 Join Thor and me as we wander the labyrinthine lanes of this beautifully preserved Hellenistic city on the island of Rhodes.
NOTE: Since our recent trip to Greece to research more settings for my novel-in-progress, THE ARIADNE DISCONNECT, Thor and I knew we had to return to this magical region. My first entry in this new blog series posted here on Saturday, 10/20/2018. It gives an overview of our rambles from Athens to seven islands in the Dodecanese and Cyclades groups, ending our ferry-hopping pilgrimage on the anciently sacred island of Delos.
Last week's blog #14 introduced this lovely site with impressions from the writer Lawrence Durrell of his visit in the 1940s. Thor and I followed in his footsteps to admire the elegant design of this ancient city first established by the Dorian Greeks in the early first millennium B.C. Three city-states controlled the island and its shipping: Ialysos, Kameiros, and Lindos (see blog #10, January 11, 2019, for photos and our visit to Lindos). Around 400 B.C., the three entities joined in a single state and built a new capital on the site of present-day Rhodes Town. Kameiros continued as a thriving community, rebuilt by the Hellenes after an earthquake in 227 B.C. That rebuilt city, nestled into the natural contours of valley and hills overlooking the blue Aegean Sea, is what we see today in the excavated walls of houses, temples, and other buildings.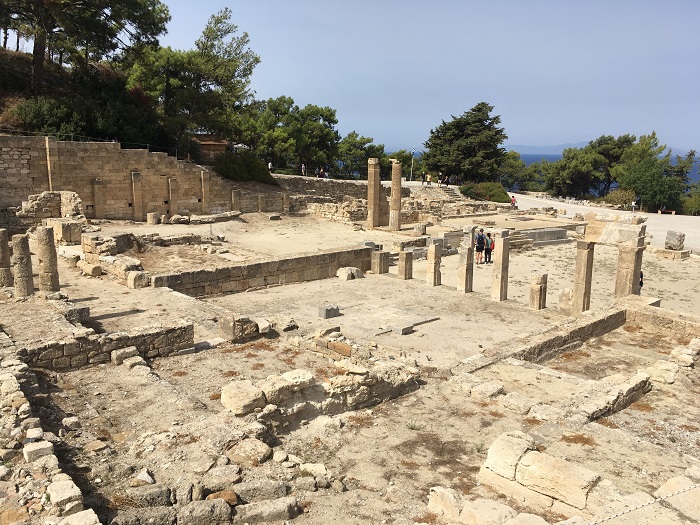 Because our Book View Cafe website server at this point may not handle many photos, I'm posting my complete blog entries on my own author website at www.sarastamey.com, where you can finish this episode and enjoy all the accompanying photos. Please continue reading by clicking on the link below, then you can return here (use "go back" arrow above) to comment, ask questions, or join a conversation. We love your responses!
https://sarastamey.com/the-rambling-writer-explores-more-greek-islands-part-15-the-labyrinth-of-ancient-kameiros/
*****
You will find The Rambling Writer's blog posts here every Saturday. Sara's latest novel from Book View Cafe is available in print and ebook: The Ariadne Connection.  It's a near-future thriller set in the Greek islands. "Technology triggers a deadly new plague. Can a healer find the cure?"  The novel has received the Chanticleer Global Thriller Grand Prize and the Cygnus Award for Speculative Fiction. Sara has recently returned from another research trip in Greece and is back at work on the sequel, The Ariadne Disconnect. Sign up for her quarterly email newsletter at www.sarastamey.com