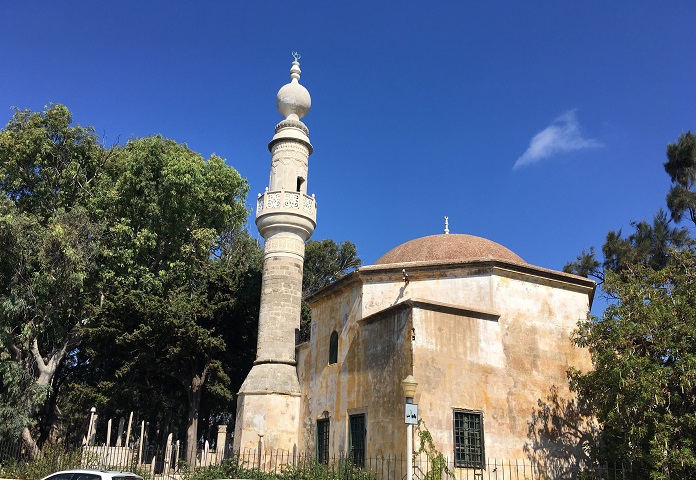 Join me to explore more of old Rhodes Town, including the Turkish quarter where the writer Lawrence Durrell lived and mused upon history.
NOTE: Since our recent trip to Greece to research more settings for my novel-in-progress, THE ARIADNE DISCONNECT, Thor and I knew we had to return to this magical region. My first entry in this new blog series posted here on Saturday, 10/20/2018. It gives an overview of our rambles from Athens to seven islands in the Dodecanese and Cyclades groups, ending our ferry-hopping pilgrimage on the anciently sacred island of Delos.
 When Thor and I returned to Rhodos Town, I wanted to see the Turkish Quarter at the harbor, where Lawrence Durrell lived while stationed there by the British to help with post-World War II recovery. He named his rented house Villa Cleobolus for the ancient Greek sage. The villa, now closed, is located near the harbor market, within the walled grounds of an old Turkish cemetery.
Durrell, who had spent many happier years in Greece, pre-war, wrote the memoir Reflections on a Marine Venus about his time on Rhodes, and while evoking the timeless beauty of the island and Greek history, it radiates melancholy about so much that was lost. Amid the chaos of postwar damage, deprivation, and recovery work, the quiet hours at the villa were precious:
"It is difficult to convey the extraordinary silence of this garden, for it is true that the main road runs along the length of it, and that the noises of motors can be heard; but so dense is the packing of oleanders and small pines and so heavy the shadow in which the house is set that sound itself becomes blurred and mingles with the hushing of the sea along the beaches to the eastward. Here in the evening we gather for drinks and gossip, sitting in cane chairs around the little painted table, hearing through the dusk the shallow strains of some forgotten fugue wafted to us from the old horn-gramophone which is the Mufti's special pride."
Because our Book View Cafe website server at this point may not handle many photos, I'm posting my complete blog entries on my own author website at www.sarastamey.com, where you can finish this episode and enjoy all the accompanying photos. Please continue reading by clicking on the link below, then you can return here (use the "go back" arrow on your browser) to comment, ask questions, or join a conversation. We love your responses!
https://sarastamey.com/the-rambing-writer-explores-more-greek-islands-part-13-rhodes-town-and-lawrence-durrell/
Next week: Join us for a tour of the ancient city of Kameiros on Rhodes, one of the best-preserved in the region.
*****
You will find The Rambling Writer's blog posts here every Saturday. Sara's latest novel from Book View Cafe is available in print and ebook: The Ariadne Connection.  It's a near-future thriller set in the Greek islands. "Technology triggers a deadly new plague. Can a healer find the cure?"  The novel has received the Chanticleer Global Thriller Grand Prize and the Cygnus Award for Speculative Fiction. Sara has recently returned from another research trip in Greece and is back at work on the sequel, The Ariadne Disconnect. Sign up for her quarterly email newsletter at www.sarastamey.com