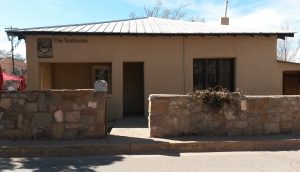 I am often asked where one may take afternoon tea in Santa Fe. Alas, the Wisteria Tearoom is fictional, and at this time there is no place in Santa Fe serving a traditional British afternoon tea. There is, however, The Teahouse on historic Canyon Road.
It's a house. One may drink tea there – lovely tea – many types of exotic tea. It is not served in fine china, but it's hot and delicious and comforting on a cold day.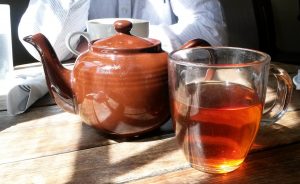 Neither will you find dainty cucumber sandwiches and other traditional tea foods there, but they do have a lovely menu of sandwiches, soups, salads, and other café fare. They also have scones and pastries, and a delightful gingerbread served with lemon curd. If you wish, you can construct something resembling afternoon tea. A savory (assorted cheeses, perhaps), a scone, and a sweet.
The staff is knowledgeable, efficient, and unobtrusive. This is the sort of place where one can nurse a pot of tea while musing about the universe. In fact, on one visit my sharp-eyed spouse noticed a Very Famous Writer at another table, having tea and getting some paperwork done.
Perhaps some day I will have tea there, and other patrons will nudge one another and whisper about Very Famous Writers. Meanwhile, there's always the gingerbread.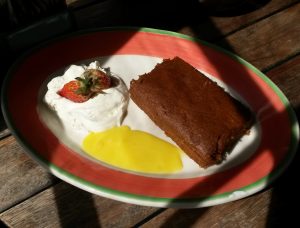 The Teahouse
821 Canyon Road
Santa Fe, NM 87505
505-992-0972
Website: http://teahousesantafe.com/
Facebook: https://www.facebook.com/TheTeahouseSantaFe/
Twitter: https://twitter.com/Teahouse821
---
Patrice Greenwood was born and raised in New Mexico, and remembers when the Santa Fe Plaza was home to more dusty dogs than trendy art galleries. She has been writing fiction for longer than she cares to admit, perpetrating over twenty published novels in various genres. She uses a different name for each genre, thus enabling her to pretend she is a Secret Agent.
She loves afternoon tea, old buildings, gourmet tailgating at the opera, ghost stories, costumes, and solving puzzles. Her popular Wisteria Tearoom Mysteries are colored by many of these interests. She is presently collapsed on her chaise longue, sipping Wisteria White tea and planning the next book in the series.
Wisteria Tearoom Mysteries:
A Fatal Twist of Lemon ~ A Sprig of Blossomed Thorn ~ An Aria of Omens ~ A Bodkin for the Bride
A Masquerade of Muertos