when last we left our intrepid road researchers, they were driving along route 50, heading west into Colorado.  In case you ever wondered, the easternmost half of Colorado looks a lot like the westernmost half of Kansas. Except fewer feed lots, and the soil's shading from taupe to reddish-brown.
The second half of the book takes place here, although it's a vague "here" for reasons of Plot.  I've been in Colorado before, so it wasn't entirely new territory, but I was seeing it with Book Eyes, now. And Christine had only ever seen it via train, so…  
We paused in Lamar to pick up a map, and discuss if we wanted to take the roundabout scenic route, or head straight for Colorado Springs.
Of course, we chose the scenic route.  Because we could.  And that took us through the Comanche National Grasslands, of which I have no photos because I was driving.  Rolling plains and flat-topped hills, for miles, stretching further than you could see from the road.  And yes, with even half an inch of imagination you could see what it had been once, when not even the Spanish had set foot on the soil yet. This part of the country won't be in book one, but the sense of it, I hope, I'll be able to convey. It's…sobering, how so much empty space can carry the weight of so much history, so many lost stories.
You can't get that looking at second-person sources and photos someone else took, not really.
From there, the fortuitous fluke of missing our turnoff to rt 25 found us in the town of Trinidad.  This was the first of fortuitous flukes, because not only was there a glorious thrift/antiqque store where we got a quick history lesson on the town from the woman working there (and scored some deals while we talked) but we also had an excellent lunch at The Corner Shop Cafe where our waitress – on hearing we were only in town for the afternoon – gave us very helpful hints about what was worthwhile to see.  You may be noting a trend here.  I'm blaming Christine: she likes to talk to people and they like to talk right back.  I'm more the listening type, in these situations.
We also heard rap music coming from a car, which made Christine declare that we had returned to civilization.  For me, the fact that I was finally getting signal on my phone was enough of an indicator. Our final stop of note was Purgatoire River Trading Company, where I did significant damage to my spending budget, and we were told that yes, absolutely yes, my vague thought that it would be nice to take Rt 12 though Cucharas Pass was an excellent idea.  So, risking the rain, we did so.
Even the mining we saw along the road – and the debris thereof – couldn't take away from how gorgeous it was – and Christine was finally getting up into the promised mountains.  And up….
and up..
and up.
Cucharas Pass is 9,941 feet above sea level.  To give you some sense of that, we here in NYC are pretty much AT sea level (35 feet).  I'm used to being up in the mountains, Christine wasn't.  I deny any/all claims that I was using her as a lab rat to see how someone raised in the plains might react….  (actually, I was on her case to keep hydrating and rest, because I'm a mom like that.  And yeah, maybe I was taking notes, too.)
After we pulled over to get our bearings and discovered that through another fortuitous fluke we were exactly where it had been recommended we stop for a beer and a rest, we had a beer and a rest at the Dog Bar & Grill, and then we were on our way again, down a few thousand feet (oh hai ear pop) and en route to our final destination: Colorado Springs.
and, after the rain finally hit, a welcoming rainbow. And a turbine.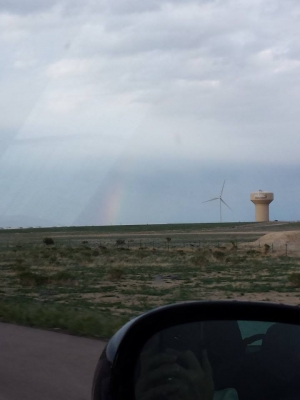 "Turbines are really large." – Christine, several times.
Theoretically, the research part of the trip was done now.  But remember what I said in part one, about opening your brain and waiting?  After spending the morning at Garden of the Gods – because how can you pass this up, when given the chance?-
we went into Old Colorado Springs, to do some touristing…and found ourselves in Flute Player Gallery, discussing kachinas and fetishes with the proprietor, John.  And in telling him why we were in town, and what I was hoping for, I mentioned that the photography of Edward Curtis (whose most excellent 1906 book of Native photographs I'd been trying to lay hands on, but couldn't find a decent copy for less than $100).
John had a copy.  And while he wasn't going to let me buy it off him, he did leave it in my grubby note-taking hands while he went to work with another customer.  If you're doing research, cast your net wide.  Talk to people.  You never know…
And then we closed out a successful trip with bison sliders, local beer, and the most decadent brownie ever…
and returned Clarence to his legal owners – not without some regret.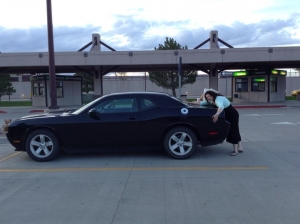 And then I came home, and toted up the costs.
Was the trip worth it, in time, cost, and energy?  Absoflippinglutely.  I learned things I needed to know, I discovered things that wouldn't work the way I'd thought they would, and  by keeping expectations reasonable and my nets wide, I came home with far more detail than I could have dreamed.  And the revisions to the book are making it feel more solid, rounded, real.
And Christine and I are still on speaking terms.  Win all around.  🙂
What hands-on research have you ever done, that turned up more than expected? What net-casting travel do you want to take?