Ah, research. Ah, road trip.
Ah, the joys of getting your research in your road trip!
I'm currently working on the first book of The Devil's West, which is a divergent history/"weird west" fantasy set in the early 1800's, in what would have been the Louisiana Purchase.  Much of the action in the first book takes place in what-would-have-been west Kansas and eastern Colorado – specifically, the short-grass prairie and high plains.  And while Google Earth and second-person notes are incredibly useful, I prefer, when possible, to actually have feet on the ground to do my location research.
So last Wednesday, we set off on Research Road Trip 2014.
And by 'we" I mean myself, Relief Driver Christine, and Clarence.
(Clarence was named for Clarence Clemons. Black, powerful, and filled with music.  Many thanks to the good folk at Enterprise for having him on the lot!)
I'd never been in Kansas before, and Christine had never actually been boots-on-the-ground in the midwest (she'd taken the train through Colorado down to Arizona, where her boyfriend's daughter lives, but that's it).  So this was new territory.
From Kansas City (MO), we headed west, then north, then south, then west, then north….basically, following the path (vaguely) that my protagonists would be traveling on horseback. The plan had been to NOT have a plan.  I'd made hotel reservations for the last night of our trip, and the rest was going to be…wherever we ended up, we'd look for a motel.  And our directions were a vague line on the map and a general sense of "thataway."
Sometimes you need to look up a specific thing.  Sometimes, you open your brain and wait for the thing you needed to come to you.
We avoided the cities and university towns, and aimed for small towns, parklands, and wildlife areas, trying to get a feel for how the landscape looked before we turned so much of it into farmland.  The first night we stayed in Salina, then on to Glen Elder, Kirwin, Norton, Rock City, Scott City, Waconda Lake, Garden City (of the places I noted on the map as we went – that should give you a general sense of our voyage).
Along the way, Christine cosplayed Hunter S Thompson. I choose my traveling companions carefully. 🙂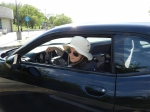 And for everyone who says that "Kansas is flat," I say yes, portions of it are very flat.  But that doesn't mean it's not also beautiful.
We saw prairie dogs, turkeys, horses, cows (a LOT of cows), mule deer, awesome rock formations, black-billed magpies, scrub jays, vultures, prairie falcons,  rainbows, dust devils, and some amazingly friendly and informative people who weren't quite sure why I'd be writing about their state, but were happy to see us, anyway.
(except Ruth, of Ruth's Antiques.  Ruth not only thought it was amazing I was a writer [she asked if she could touch me, I've never had anyone do that with a straight face] but she was also a fantasy reader!)
and we'll pause a moment for Monument Rocks, which won't be in the book, but we HAD to stop there, despite heavy traffic.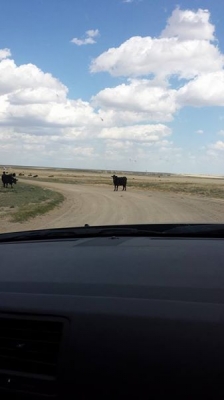 (don't laugh, that cow was giving us Seriously Dirty Looks.)
You go down a long, long, dirt government road to get to Monument Rocks, and when you're there, it's so quiet all you can hear is your heart beat. And the cows lowing. It's this utter sense of being Alone. And that is going into the book.
also: geology boner. seriously OMG.
The people in Kansas, as I said above, were wonderful.   But the title of this report comes from something we heard many times during this leg of the trip, when very nice, otherwise friendly people in motels, restaurants, and stores across the state took one look at us and asked, in varying tones of  confusion: "what are you doing here?"
The implication being that New Yorkers generally didn't appear in small-town Kansas.
Well, we did.  🙂  And we liked it.
Yeah, Kansas is a red state, and clearly aging-out.  And yeah, we heard some casually bigoted things being said that made us cringe.  But overall, everyone we met was amazing (except the alpha male road construction worker who seemed upset that two chicks had a muscle car and he only had a 'stop' sign.  Sorry about your ego, dude).  And everyone we met seemed was happy to trot out any bit of information or suggestion they thought might help.
And so every night I did a full brain-dump (and camera-dump) into my notebook, ways to rework or revise scenes tumbling onto the page almost faster than I could compose. Was the landscape the same as it was in 1803?  Nope.  Too many non-native species have been introduced, and even the wildlife preserves are 'managed' and therefore not entirely accurate.  But having the feel of the ground under my feet (and on my hands), the smell of the air in my nose, and the feel of a space unconstrained by buildings or people?  Priceless.
And yes, I ate locally. We also drank locally, but I mostly refrained from booze-blogging.  Mostly.
And this doughnut snob has to give a shoutout to Daylight Donuts in Syracuse. Yum.
Next Post:  part 2: Colorado