The winter holiday season has always seemed to me to be a good time to strike out beyond my usual reading preferences. Maybe that's a relic from the childhood years when adult relatives would give me the books they thought I ought to enjoy, whether these were ones I would have ever thought of selecting for myself. And many were treasures indeed. So here are a few, genre and not.
Top of the list is the book I'm currently immersed in, An Equal Music by Vikram Seth. It appeared on our To Be Read
Bookshelf. I have no idea where it came from, perhaps a box of books from one friend or another, left with me when they departed for another continent, to be read and passed on to the library book sale. I suspect I delayed so long in cracking its cover because it looked pretentiously "litrary" and is written primarily in present tense. I'm only reluctantly willing to tackle present tense, although given sufficient motivation, I settle into it nicely. To talk about the richness of characterization or the layers of story is really to say nothing at all about the book. What captured me and held me firmly was the wonderfully inventive, detailed description of how professional musicians – in this case, the protagonist being second violin in a world-caliber string quartet – experience classical music. After eight years of piano lessons, I have a glimmering from my own experience of what it's like, but the book takes me right into the heart of chamber music, of the intense love and hate affair between a highly skilled musician and his instrument, and of the relationships between people who play together. Into this, Seth weaves stories of love won and lost, of rivalries and misunderstandings and sheer bloody-mindedness (the characters are British, don't you know). The music is the real star, the living heart of the book.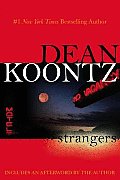 I know which box Strangers by Dean R. Koontz came from, and typically I ration those books. This one, published in 1986, is more suspense than horror, a First Contact story told in the retrospect of a botched government cover-up via hypnotic memory suppression. One of the character is a novelist newly come to fame; I smiled to myself at his pride in his IBM DisplayWriter and daisy-wheel printer with four (wow! four!) fonts. But the obsolete technology bits paled compared to the struggles of the various characters to cope with the various manifestations of the suppressed memories, to find one another, and rediscover how much love was there. As for the secret being so ruthlessly kept, it is wonderful and glorious, not at all what I expected from Koontz's more horror-type work.
Finally, a work marketed as science fiction but definitely out of my usual scope, Swallowing A Donkey's Eye by Paul Tremblay (ChiZine Publications). This came to me in a stack of freebies (at the last Nebula Award weekend, if memory serves). It's not something I would go out of my way to pick up, being a sort of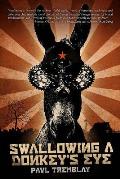 Animal Farm/1984 futuristic black comedy. The prose moves right along, I found the viewpoint character amusing if not always engaging and the social commentary barbed and refreshing. From the back cover: "Farm is the mega-conglomerate food supplier for City, populated with rabidly bureaucratic superiors, and sexually deviant tour guides dressed in chicken and duck suits." If that piques your interest, do check it out.