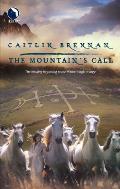 The Mountain's Call by Caitlin Brennan. Under her various pen names, Judith Tarr has long been one of my favorite authors, particularly when she writes about horses. This book is full of horse-magic, the usual kind because they're so marvelous and the special kind created by the "white gods" of Aurelia as they Dance the patterns of the world. One moment they're ordinary "fat white ponies," but don't let that fool you. We all know their wisdom and power run far, far deeper. I especially loved how their motives and values are not always clear — they truly are mysterious as well as magical.
In this world, the stability of the realm is maintained by a meticulously executed equestrian Dance, very much akin to the performances of the Lippizan horses of the Spanish Riding Academy of Vienna. The riders train all their lives for it, in partnership with the magnificent white stallions. Historically, only boys have been Called (as in the title of the book) to the riding school, so when our heroine Valeria shows up, and then bonds with a young stallion of exceptional power, the reactions range from bewilderment to outright hostility. She then becomes a prime target for recruitment into a plot to usurp the throne and the very fabric of the kingdom. Suffice it to say, divided loyalties, not to mention schemes and betrayals ensue. Because the book appears under the "Luna" imprint of Harlequin Books, there is of course a love story. Actually, depending on how you look at it, more than one. But fantasy readers won't be disappointed, as the story, the first part of three, is anything but formulaic with its independent, earthy heroine, two dashing lovers, and of course the magical white horses. This one definitely belongs on the bookshelf of every fantasy reader and horse lover.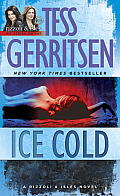 Ice Cold by Tess Gerritsen. Gerritsen is one of my favorite thriller writers, along with Kathy Reichs. I loved studying anatomy, loved human dissection, and so all the forensic blood'n'guts adds to the fascination. Usually, the books are predictable in the sense of I know ahead of time what kind of reading experience I'll have — police procedural, forensic pathology, a murder mystery with consistent suspense and smart, savvy female protagonists. Every once in a while, a book will rise about the usual, and this is one. The core is the friendship between cop Jane Rizzoli and medical examiner Maura Isles, their belief in one another, their honesty and care. When Maura disappears after a medical conference and a badly burned body with her characteristics is discovered in a wrecked car, everyone concludes she's dead. Except Jane, who knows the body cannot possibly be Maura's because it wasn't wearing a seat belt. Noticing this kind of detail, and putting it together with Maura's obsessive safety habits is what makes Jane such a tenacious detective. It's a good thing, too, because Maura has stumbled into Nightmare-in-Jonestown. Woven in with the theme of friendship is that of loss — of family, of a love affair, of hope, of safety. The ending was a surprise — fair play but not at all what I expected — but more than that, the resonant layers and fine touches stayed with me after I'd finished.
Due Date by Nancy Wood. This is a first published novel from a talented writer who received very poor editorial support from her publisher. The premise — a down-on-her-luck student undertakes to become a surrogate mother, only to discover that the parents are baby brokers — is interesting and refreshing, and the prose is smooth. (I also think it's a hoot that for the past few days, my Spam Box has been full of ads for surrogate mothers.) The characters are strongly drawn, with solid dialog. Yet although the overall story arc has a decent shape, the book feels flabby. The tension takes too long to escalate (for example, it isn't until very late in the book that we learn why selling babies is a horrific thing instead of an illegal way of giving them to loving parents who don't qualify for traditional adoption), too many details and incidents are unconnected or connected in the wrong way, and the protagonist appears either inappropriately suspicious or equally inappropriately gullible. I don't see these as faults of the author, but of a failure of editing. Even seasoned writers need that second pair of eyes, that professional perspective on how to pull it all together, to make every piece pull its weight at the right time in the right way. All the elements of a really good suspense novel are present, and as it is, Due Date offers an entertaining story with many strengths, worth reading. It could have been much more, and I'm hoping that future novels from Nancy Wood will do justice to her considerable potential.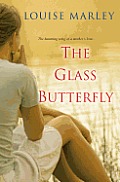 The Glass Butterfly by Louise Marley. There's a special delight in picking up a new Louise Marley novel, akin to expecting the unexpected. Who else could write about Mozart's musical genius transmitted by a vampire's bite, or time travel to discover the mystery of Clara Schumann's passionate romance with Brahms? Music, as the jaded, time-worn vampires in Mozart's Blood know all too well, is the one joy that transcends the years, perhaps because it cannot exist outside of time.
Music, particularly the glorious operas of Puccini, is an abiding love of Victoria Lake, and the one thing she must renounce if her identity is to remain hidden as she goes on the run from a psychopathic killer. But music cannot be extricated from the soul, and Puccini's own life — as seen through a servant girl — soon begins unfolding in Victoria's dreams. It's never entirely clear whether this is a purely psychological phenomenon or whether there is some fantastical element, some bond or message across time. Are the lives of the two women parallel in the deadly risks they each face? Does music have the magical power to cross time as well as space? Or is this all happening in the highly-stressed mind of a woman who has already survived one attempted murder? It doesn't matter, because the metaphors and images and emotional responses are real, no matter how them come to us. Bottom line: an extraordinary book by a master storyteller. If you don't already love Puccini's operas, you will.