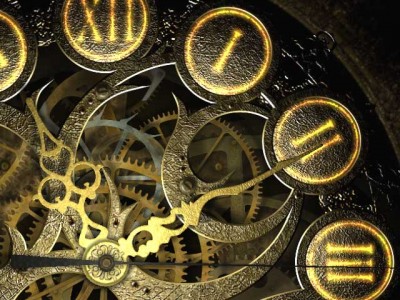 My grandmother, born in 1897, was six when the Wright Brothers flew at Kitty Hawk; she was sixty-one when the Eagle landed on the moon.  Think of the scope of that: from being earth-bound to having the promise of the stars, all within one lifetime.
When we talk about time travel it usually involves science and technology (be it never so retro), or fantasy dream scapes or time-walkers or magic of some sort. Not to mention the good old Rip Van Winkle trick of going to sleep under a tree and waking up a few decades later (or doing it in reverse like the Connecticut Yankee).  But we're all time travelers.  We don't notice it because, as the old commercial says, we're soaking in it: we're used to moving through time one second after the next.
As I'm writing this, my father is closing on his 98th birthday: he was a toddler when World War I began, came of working age during the Great Depression, was trained to fly during WW II, worked briefly for David O. Selznick of Gone with the Wind fame, watched as the Cold War brewed and the US got involved in Vietnam.  I watched the Watergate hearings with him.  A couple of years ago he saw what would have been a utopian fantasy in his youth come to pass: the election of a black president.  When he started his working life as a designer, you did layout with rubber cement, rulers, an X-Acto knife and a good eye; he understood and even appreciated the computer tools now available to the designer, but still preferred to "get his hands into the work."  He embraced the answering machine but disdains the cell phone.
At Christmas this year Dad sent me a book called American Caesars, by Nigel Hamilton. It is patterned on Suetonius's Twelve Caesars, and chronicles the path of the presidents from Roosevelt through Bush the Younger.  The parts I didn't live through were fascinating because so much of it was new to me; the parts I remember were fascinating because they poked and prodded memories and impressions I don't examine that much.  And the book, over all, reminded me that I'm living through history, taking notes.
I'm now past the half-century mark (except in my head, where I remain stubbornly 27) and I find that I've lived through a lot of change.  Watching an old movie with my daughters, I realize how much attitudes toward women, toward people of color, toward our place on this planet, have changed.  The fear of instant nuclear eradication which was the constant white noise in my childhood has become, for me at least, a low-lying anxiety about how we humans can bring things to the brink of disaster and pull back just in time, over and over again.  But I've also seen humans become, often against their will, more open to others.  I wish that prejudice didn't exist, but I remember a time when it was codified into law and the law lauded for it.
If I make it to 98 (in 2051!) what will I have seen?  We all travel through time one second after the next, looking back or peering forward, sometimes forgetting now.  Take notes.  This is history, and you're soaking in it.
_____
Madeleine Robins is the author of The Stone War, Point of Honour, Petty Treason,  and a double-handful of short stories which are available on her bookshelf.  She has just finished The Salernitan Women, set in medieval Italy, and a new Sarah Tolerance novel, The Sleeping Partner (which will be out in fall of 2011 from Plus One Press).  Her first Regency romance, Althea, will be available in April from Book View Cafe