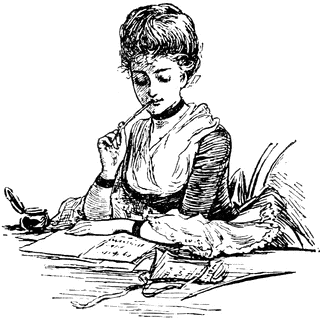 On a writers' list I'm on, we started talking about the Great Myths of the Writing Life.  You know, like "You have to be a drunk to be a writer.  Look at Hemingway!" or "All editors are jealous of writers," or "There is a great secret conspiracy to keep the really good stuff [which usually means the speaker's work] from the public."  There are drunken writers.  There might be editors who are jealous, but mostly they're just delighted when they find something worth publishing.  There is no secret conspiracy to keep a good work from the public. Conspiracy theories make great fiction, but it takes a tightly controlled group of people with extraordinary purpose to keep a secret over time, and those are few and far between–remember Watergate.
But my favorite Writing Myth is: once you start publishing you will be rich, set up for life.  I took my publications off my resume years ago when, during a job hunt, someone said he was reluctant to hire me because when I hit the New York Times Bestseller List I'd quit.  So: my cautionary tale:
I was living in New York, but commuting up to Boston three times a season to teach a one-day seminar on the nuts and bolts of writing.  I had a big-ish packet of material I handed out, including a piece from the Wall Street Journal about the statistical likelihood of finishing a book, selling the book, writing another book, etc.  So class starts one day and I ask everyone to introduce themselves and say something about what they want from the class–standard Teacher Fare.  Things go fine until the turn of a pretty woman of, maybe, 25.
"I'm an actress," she told us.  "It's a really tough life.  A lot of rejection, and it's really hard to make a living.  I really don't want to waitress; everyone waitresses.  So I thought I could support myself by writing."
I did not laugh at her.  My hallucinatory memory is that I dropped to my knees in awe at her innocence.  In fact, what I think I did was to nod and tell her she would want to pay particular attention to the statistics I'd be handing out soon.  And, to her credit, she did.  I saw her shuffling through the packet and listening as I repeated the statistics in that Wall Street Journal article.  She did not come back after lunch.
Did I feel bad about this?  Nope.  My feeling is that I saved her from wasting time and energy.  I hope her acting career prospered.
As far as making a bundle as a writer?  I come back to lyrics from the musical Pippin, wherein Charlemagne notes, "It's smarter to be lucky than it's lucky to be smart."
———-
Madeleine Robins blogs at BVC on the 7th and 21st of the month, and more regularly at Running Air.  Her short stories are available–for free!–from her Bookshelf.