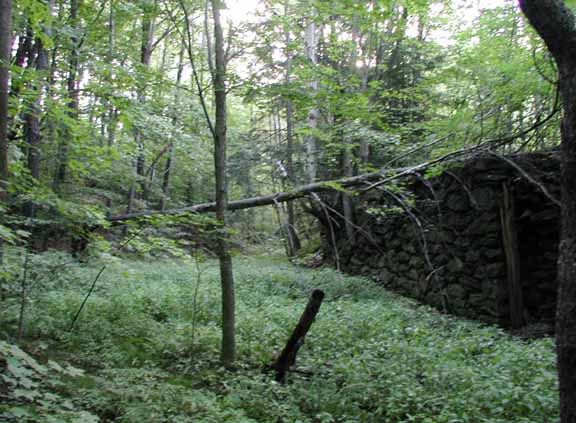 Fall is my favorite season, and one of the things I've missed since moving to California is the Autumn of the northeast–the clarity, the crispness, the incredible color (and the incredible relief after soupy summer heat and humidity).  Autumn is my favorite season, but for some reason when I think of the Berkshire Mountains, where I spent my adolescence, it's all about summer.
The Berkshires are quiet, worn mountains, less showy than their cousins to the west. And in spring and summer they are green, a green with an undertone of blue, as if all the leaves were lined with darkness.  The green is velvety and dense and aromatic and cool: if I climbed the hill behind my house on a sunny day, crossed the perilous blackberry thicket, and made it to the woods, the air was suddenly fifteen degrees cooler and scented with leaf and decay and spring water.   The house where we lived–a barn, actually–backed into a mountain and overlooked a sprawling country valley centered on the Housatonic River.  There were more mountains across the way, and the least sounds–a scrap of conversation, a car door closing, a cow lowing irritably–could echo up from the river or from Route 7, which paralleled it.  The valley was all fields and pastures, houses, roads leading to towns to the north and south: all known places.  But behind the house we had 140 acres of mountain: an ancient overgrown orchard contained within mossy stone walls; a stand of birch trees; slabs of rock that made little caves my friends and I explored on hot summer days; and a stream that bubbled in and out under rocks and was as cold and sweet as anything I've ever tasted.  The green-ness of the place is tangible: you can smell the chlorophyll, taste the must of last year's leaves decaying under a blanket of pine needles; see the swarms of gnats boiling in the distance, and feel the damp, hot air on your skin.
When I moved away from the Berkshires I didn't look back–except to visit my parents.  I am a city girl; keep me too long in the country and I begin to get red and irritable. And yet.  A dozen years ago my older daughter spent her first summer at camp in Vermont about 150 miles north of my parents' house in Massachusetts, and for most years since then–through her five summers there, and through my younger daughter's time there as well–I've been able to get in touch with that sense of mystery and green every time we visited.  The camp is a very different setting: a glen, really, surrounded by woods, with a lake, a stream, and–never forget–150 kids and counselors (and goats and dogs!) running around.  But every time we'd drive onto the camp property and step out of the car I was again in the green, vast and cool and mysterious, with the air shimmering on my skin, and the smell of chlorophyll everywhere around me.
_____
Madeleine Robins is the author of The Stone War, Point of Honour, Petty Treason, and a double-handful of short stories which are available on her bookshelf.  She has just finished a book set in medieval Italy, and is now working on a new Sarah Tolerance novel.