One of the unexpected joys of being a family guest at Greenwalls, Marion Zimmer Bradley's Berkeley home, was learning new kitchen strategies. I say strategies, not recipes, because when Marion and I said we cooked "with book in hand," neither of us meant a cook book.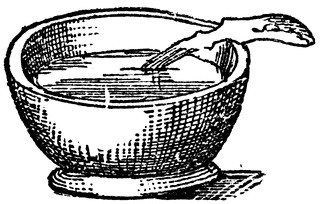 Therefore, techniques needed to account for those all-too-predictable times when an idea would strike or "just a paragraph" would stretch out to several chapters. Needless to say, any recipe involving a burner was risky at best.
Marion made this oatmeal for me on one such visit. It instantly became my mainstay breakfast, sweetly forgiving of authorial lapses in attention and always delicious.
Start with a glass or pottery bowl. Marion used a 4-cup Pyrex measuring cup, which is nice because it has a handle. Into it put:
a whole chopped apple, peeled if you like (neither of us bothered)
a healthy dash of cinnamon (if you like cinnamon, which I do, and nutmeg or Chinese five-spice if you are adventuresome)
½ cup old-fashioned or rolled oats (NOT instant or quick!)
a pinch of salt
about 1-1/4 cups water
Stir it up so the cinnamon doesn't clump. Microwave on High for 5-7 minutes. The time and water are approximate, depending on the moistness and ripeness of the apple, also how chewy you like your oatmeal. The lovely thing is that you can wander off, write a sentence or a page, read, browse BVC's Front Page, and your breakfast will be waiting for you — unburned — when you return.
Notes: you can gussie this up in all sorts of ways: pear instead of apple, raisins or chopped dates or other dried fruit, a tablespoon of flax meal, a dash of vanilla. You can also double it, using a larger bowl and cooking for 10-12 minutes.
Deborah J. Ross has been writing science fiction and fantasy since 1982. Her recent publications include Hastur Lord, a Darkover novel with the late Marion Zimmer Bradley, and Jaydium, available in serialized chapters and ebook here on Book View Cafe.
Find my new and out-of-print books at Powell's online.