Ahoy! Join Captain Thor and me as we launch our new pirate boat, RV (Recreational Vessel) Nereid.
NOTE: This is a rerun of an earlier post, as summer Finally arrives in the rainy Pacific Northwest, and Thor kidnapped me today with Bear dog to bicycle the lake trail on our first warm day. I also enjoyed my first skinny-dipping of the season in the very "Brisk" lake! We are now dusting off the pirate raft for more depredations this summer….
If you follow my Rambling Writer episodes, you know that this has not been a typical summer of hiking and biking for me. A new physical therapy regime (after many months of false starts and reinjury) that I fervently hope will finally help my torn hip tendon heal mandated that I limit almost all walking. My hero Thor has been creative in coming up with ways to get me outside, as he may have noticed me ready to chew my leg off like some desperate animal in a trap. So he turned pirate and ordered an inflatable raft so we could go pillaging (and swimming) on the waves of nearby Lake Whatcom. Of course, this involved tricking out the raft with a transom and electric trolling motor, as well as bags of gear, beer, and a small battery-powered pump to inflate the raft. We never go light….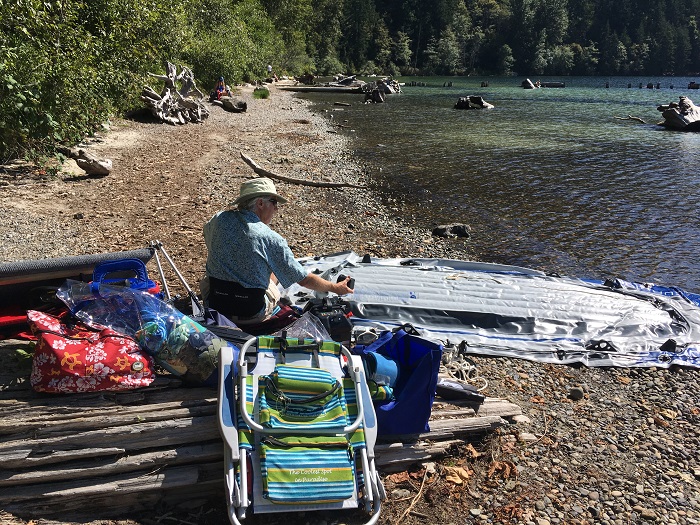 ***
I'm posting my complete blog entries on my own author website at www.sarastamey.com, where you can finish this episode and enjoy all the accompanying photos. You can also view the complete Italy series there, as well as many other Rambles. Please continue reading by clicking on the link below, then you can return here (use "go back" arrow above) to comment, ask questions, or join a conversation. We love your responses!
https://sarastamey.com/the-rambling-writer-playing-pirate/
***
You will find The Rambling Writer's blog posts here every Saturday. Sara's latest novel from Book View Café is Pause, a First Place winner of the Chanticleer Somerset Award and a Pulpwood Queens International Book Club selection. "A must-read novel about friendship, love, and killer hot flashes." (Mindy Klasky).  Sign up for her quarterly email newsletter at www.sarastamey.com