Thor and I trace the labyrinthine ruins of this Minoan palace-city where I camped years ago to listen to voices of the ancient past.
NOTE: Of course, Thor and I had to make another trip to Greece, as he's fallen as much in love with the islands as I am. This time, in addition to other island-hopping, I wanted to return to Crete after 37 years. My first months-long trip was as a hippie backpacker, camping in the ruins and falling under the spell of the mysterious, vanished Minoan culture. This time, I got to introduce Thor to "glorious Kriti" and research more settings for my novel-in-progress, THE ARIADNE DISCONNECT.  This rerun of a 2019 blog series started August 26, 2023, and will continue every Saturday (with occasional diversions).
Lawrence Durrell, in his wonderful pictorial memoir THE GREEK ISLANDS, writes of Phaistos (sometimes spelled Phaestos in English): "Atmosphere for atmosphere, I feel much more mystery and splendour about Phaestos than Knossos. I think most people would agree. The site is a honeyed one for summer breezes…. and through the verdant plain below a small river called Giophoros — 'earthbringer' — prettily potters."
I'm not sure everyone would agree, but the two major Minoan sites are very different in their presentation today. The more famous Knossos (we'll visit it in upcoming blog posts) was extensively and controversially reconstructed some decades ago by Sir Arthur Evans, to dramatic effect: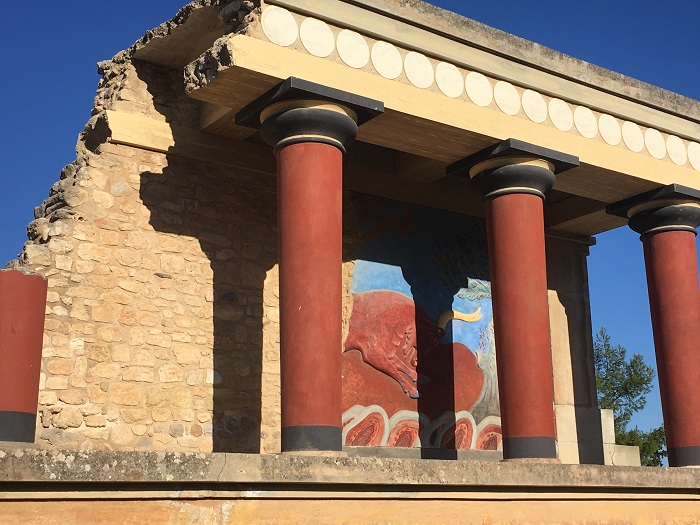 In contrast, the excavation of the similarly important site of Phaistos has proceeded much more conservatively, and a visit to the ruins requires more imagination to trace the tightly-packed footings and remaining chambers in order to capture a sense of the former inhabitants. There is certainly more serenity here to contemplate the past, far from the tourist hordes crowding popular Knossos. And, since I had camped among the ruins in my hippie traveler days before the site was fenced, I was eager to see if my memory of the peaceful valley remained true.
I'm posting my complete blog entries on my own author website at www.sarastamey.com, where you can finish this episode and enjoy all the accompanying photos. Please continue reading by clicking on the link below, then you can return here (use "go back" arrow above) to comment, ask questions, or join a conversation. We love your responses!
https://sarastamey.com/the-rambling-writer-returns-to-crete-part-8-mysteries-of-ancient-phaistos/
*****
You will find The Rambling Writer's blog posts here every Saturday. Sara's Greek islands novel  from Book View Café is available in print and ebook: The Ariadne Connection. "Technology triggers a deadly new plague. Can a healer find the cure?"  The novel has received the Chanticleer Global Thriller Grand Prize and the Cygnus Award for Speculative Fiction. Sara is at work on the sequel, The Ariadne Disconnect. Sign up for her quarterly email newsletter at www.sarastamey.com