Join Thor and me as a few kilometers of roads (with slight detours) takes us from ancient Minoan Phaestos to Roman Gortys to modern Irakleio. And images of my writing muse Ariadne, old and new.
NOTE: Of course, Thor and I had to make another trip to Greece, as he's fallen as much in love with the islands as I am. This time, in addition to other island-hopping, I wanted to return to Crete after 37 years. My first months-long trip was as a hippie backpacker, camping in the ruins and falling under the spell of the mysterious, vanished Minoan culture. This time, I got to introduce Thor to "glorious Kriti" and research more settings for my novel-in-progress, THE ARIADNE DISCONNECT. This rerun of a 2019 blog series started August 26, 2023, and will continue every Saturday (with occasional diversions).
Last time (blog post of Dec. 14), Thor and I departed the serene archaeological site of Minoan Phaestos and headed north toward the bustling port city of Irakleio and the famous site of Minoan Knossos. On the way, I wanted to see the Roman site of Gortys. After an unplanned detour through fields and dusty villages as Thor's "girlfriend" Siri became very confused about place names, I followed the traditional navigation technique of asking locals the way. A couple of truck drivers at a roadside kafenion spoke no English, but directed me to a woman who understood enough to point the way. "Efcharisto" (thank you) once more to the patient, generous Greeks!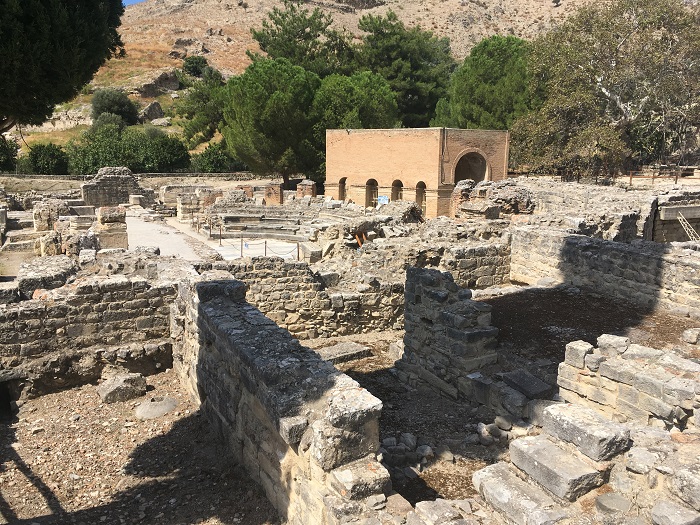 Gortys was settled in ancient Minoan times as a minor subject of Phaestos, but gained more influence when the Dorians from mainland Greece came to power on Crete, and by the 8th century BC had commercial importance. In the 3rd century BC Gortys conquered Phaestos, and later the Romans took and made the city their capital to rule all of Crete. The oldest remains include the Odeion, or theater, which was originally covered, from around 500 BC.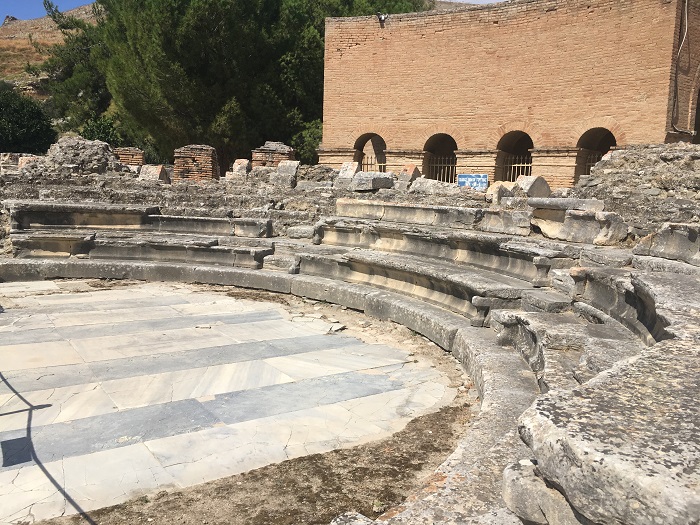 I'm posting my complete blog entries on my own author website at www.sarastamey.com, where you can finish this episode and enjoy all the accompanying photos. Please continue reading by clicking on the link below, then you can return here (use "go back" arrow above) to comment, ask questions, or join a conversation. We love your responses!
https://sarastamey.com/the-rambling-writer-returns-to-crete-part-10-the-road-to-irakleio/
*****
You will find The Rambling Writer's blog posts here every Saturday. Sara's Greek islands novel  from Book View Café is available in print and ebook: The Ariadne Connection. "Technology triggers a deadly new plague. Can a healer find the cure?"  The novel has received the Chanticleer Global Thriller Grand Prize and the Cygnus Award for Speculative Fiction. Sara is at work on the sequel, The Ariadne Disconnect. Sign up for her quarterly email newsletter at www.sarastamey.com