Join me for a celebration of Easter on my first trip through the Greek islands, inspiration for my Book View Cafe novel THE ARIADNE CONNECTION.
NOTE: This week, I'm revisiting memories of my first backpacking trip around Greece in 1981, including an Easter week stay at a remote village on the south coast of Crete. I have only a few photos remaining from that trip, so some here are from later trips and different islands.
 Leaving remote Loutro on a local ferry east, Jim (my partner at the time) and I enjoyed the deep blue seas and views of the rugged cliffs along the south coast of Crete. We disembarked at Chora Sfakion and were unable to compete with sudden hordes of young Germans on holiday scrambling for the bus out of town, so found a flat spot outside town to pitch our tent beside a small, abandoned chapel. We finally scored a spot on the crowded bus to Skaloti the next day, sharing space with chickens, packages, and an assortment of Cretans including a beautiful young woman with a profile from an ancient urn, a handsome Orthodox priest with the tall black hat, and the usual exuberant bus driver. This one was a big, burly, graying man who gestured out the open side window and shouted greetings to locals sitting outside village tavernas just feet from the dirt road.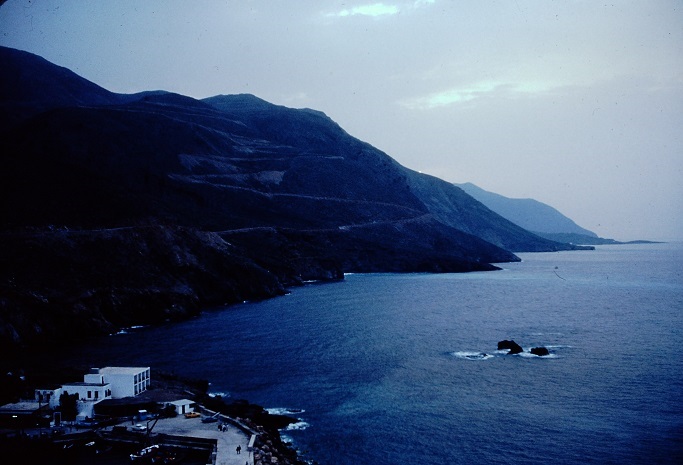 After a bus ride of many steep, tight turns above hair-raising drops into rocky ravines, we reached the end of the line at Skaloti, which boasted one dusty taverna/market and no accommodations. With only an hour before sunset, we contemplated the 15-kilometer hike eastward to the next bus connection, the village of Rodakino. Spreading our sleeping bags in a field, we wandered to the edge of the sea cliffs to soak in the vistas of stark pale stone and cobalt sea. Sitting on the steps of a deserted little whitewashed chapel, we enjoyed a softly rosy sunset. Letting time flow around me, feeling the lingering warmth of the stones soak into me, I sat listening to ancient whispers until blue dusk settled over the chapel.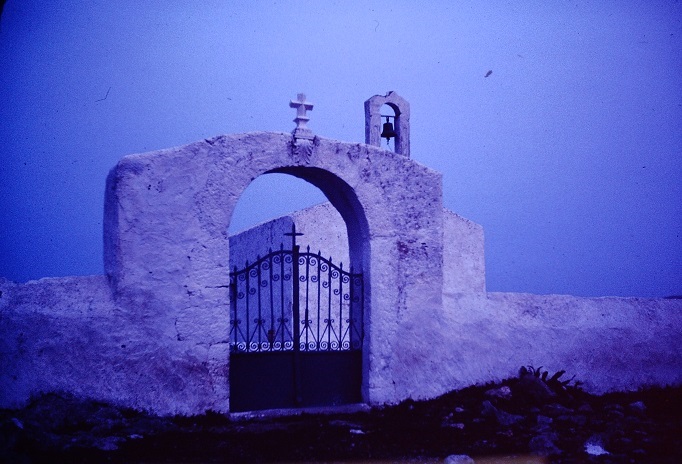 ****
I'm posting my complete blog entries on my own author website at www.sarastamey.com, where you can finish this episode and enjoy all the accompanying photos. You can also view the complete Italy series there, as well as many other Rambles. Please continue reading by clicking on the link below, then you can return here (use "go back" arrow above) to comment, ask questions, or join a conversation. We love your responses!
https://sarastamey.com/the-rambling-writers-greek-island-easter/
*****
You will find The Rambling Writer's blog posts here every Saturday. Sara's Book View Cafe Greek islands novel is available in print and ebook: The Ariadne Connection.  "Technology triggers a deadly new plague. Can a healer find the cure?"  The novel has received the Chanticleer Global Thriller Grand Prize and the Cygnus Award for Speculative Fiction. Sara has recently returned from another research trip in Greece and is back at work on the sequel, The Ariadne Disconnect. Sign up for her quarterly email newsletter at www.sarastamey.com