Come time-travel with me as Thor and I drive a rocky passage to the sea, and I flashback to my first Cretan hike down the Gorge of Samaria.
NOTE: Painful stenosis flareup continues, so I'm still "grounded" from my keyboard except for very brief sessions. Here's a rerun of cherished trips to the "glorious island of Kriti," inspiration for my Book View Cafe novel THE ARIADNE CONNECTION. From 2019:
NOTE: Of course, Thor and I had to make another trip to Greece, as he's fallen as much in love with the islands as I am. This time, in addition to other island-hopping, I wanted to return to Crete after 37 years. My first months-long trip was as a hippie backpacker, camping in the ruins and falling under the spell of the mysterious, vanished Minoan culture. This time, I got to introduce Thor to "glorious Kriti" and research more settings for my novel-in-progress, THE ARIADNE DISCONNECT. This new blog series started October 19, 2019, and will continue every Saturday.
In last week's post, we delved into the ancient Minoan cemetery of Armeni and marveled at the rich trove of its relics displayed in the Rethymno museum. Then we headed for the south coast in our rental car, where we planned to enjoy some swimming and beach R&R at the laid-back village of Plakias. Crete's east-west backbone of rugged mountains dictates some circuitous routes, and much of the south coast is not accessible by road, only by boat. Luckily Plakias was a fairly quick drive from the north coast, with the option of two different gorges to follow to reach the shore. We chose the Kourtaliotiko Gorge, its rugged walls looming over the roadway and dropping to an almost-dry stream bed. (It was late September; in the winter and spring the stream would be rushing.)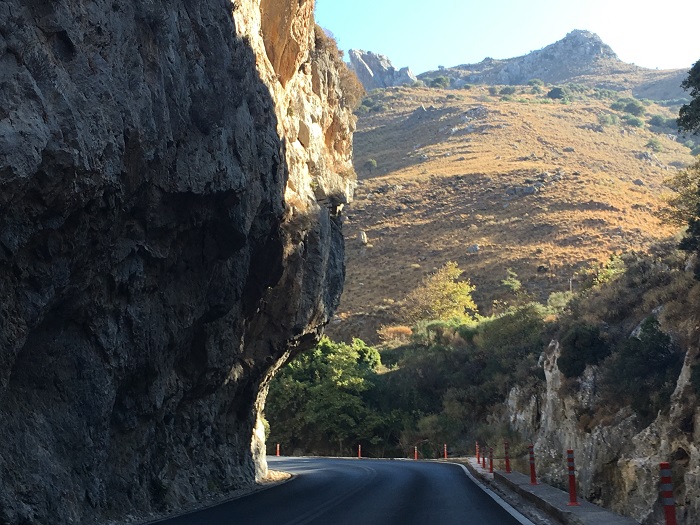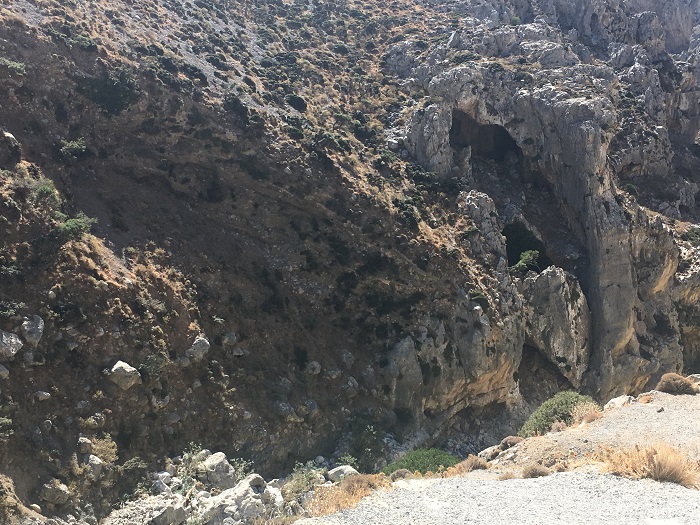 As always when driving the sometimes terrifying Greek mountain roads, we made sure we had our "evil eye protection" blue bead hanging from the rear-view mirror.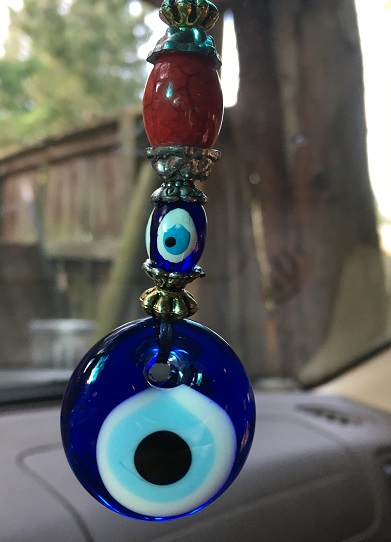 I'm posting my complete blog entries on my own author website at www.sarastamey.com, where you can finish this episode and enjoy all the accompanying photos. You can also view the complete Italy series there, as well as many other Rambles. Please continue reading by clicking on the link below, then you can return here (use "go back" arrow above) to comment, ask questions, or join a conversation. We love your responses!
https://sarastamey.com/the-rambling-writer-returns-to-crete-part-3-gorges-of-south-crete/
*****
You will find The Rambling Writer's blog posts here every Saturday. Sara's Book View Cafe Greek islands novel is available in print and ebook: The Ariadne Connection.  "Technology triggers a deadly new plague. Can a healer find the cure?"  The novel has received the Chanticleer Global Thriller Grand Prize and the Cygnus Award for Speculative Fiction. Sara has recently returned from another research trip in Greece and is back at work on the sequel, The Ariadne Disconnect. Sign up for her quarterly email newsletter at www.sarastamey.com